House Tour: Melissa & Henry's Small Live/Work Home

Name: Melissa Agostino and Henry Tyminski of Sali Tabacchi
Location: Toronto, Ontario
Size: 600 sq. feet
Years lived in: 1.5

We have a "thing" for small spaces here at Apartment Therapy – we love them and love featuring them. Melissa and Henry's place is no exception – in fact, it stands out as a great example of how to do it right – they not only are self-described "pack rats" who made room for their collections, but they also work and run their business out of the same space. That's some small space skills!


Melissa and Henry founded graphic design studio Sali Tabacchi in 2007. Since December of 2008, Melissa is also the Art Director of Azure Magazine. From 2003-2007, they lived in worked in Amsterdam, The Netherlands.
Their small loft-style home and studio is perched on the 4th floor of a building in a quiet residential neighborhood which has a long history. It was completed in 1873 and was in use as a bread factory from 1919 – 1957.

Our style: Retro-vintage-kitschy-modern
Inspiration: We are pack-rats and love searching antique sales and junk shops for "just the right thing". We are attracted to graphic pieces that are either illustrative or contain typography or letters/numbers, mixing of bold styles and colours.
Favorite Element: The view of the Toronto skyline and bright mornings
Making the space suitable for both work/live, since we also use the space for our graphic design studio, Sali Tabacchi

Storage, storage, storage

What Friends Say: Awesome view!, love the building, great neighbourhood, cute/cozy space, "It's so quiet" up here

Biggest Embarrassment:
The amount of Ikea items we currently own!

The style of kitchen cabinets/counter and bathroom (not shown) – we're not crazy about them, but we are too lazy/busy to do anything about it at the moment.

Proudest DIY: Two 9ft tall industrial shelving units created from six 3ft tall pieces purchased from Home Depot. We had masonite panels cut to fit the sides and back of the shelves and painted them with green chalkboard paint – great for making spontaneous notes and personalized greetings to clients and guests.

Biggest Indulgence: Our vast collections of vintage items/junk

Best advice: It's possible to create a real multi-functional space even if it's tiny. We achieved this mostly with our work table that we use for everything – working, entertaining, cooking and creating.

Dream source: Lately, we're in love with all the items that Blu Dot is producing, especially would love to have one of their x-large "Strut Tables" and set of "Real Good chairs" around it.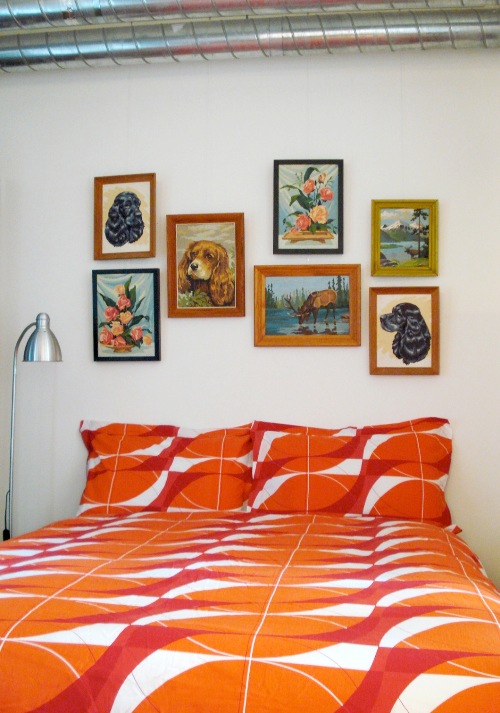 >>
Resources:
Work area:
– Industrial shelving Home Depot, cut masonite panels, green chalkboard paint
– books, vintage/antique items, letters, etc from various places collected over the years
– cardboard storage boxes from Ikea
– Vintage "Sali e Tabacchi" metal sign (1950s or 60s) from a shop in Italy (bought on eBay) that inspired our graphic design studio's name
– "Forsby" wood work table from Ikea
– church pew bought at antique fair
– retro vintage kitchen chairs (blue), vintage couch collected over the years
– vintage flower "genetics" diagram pull-down from antique fair in Utrecht, The Netherlands
– window removable fabric panels custom sewed, fabric from Ikea
In front of bedroom window:
– 3ft industrial shelf, also from Home depot, with vintage "vino" jug and "Love is Blind" vase from Jessica Lertvilai on top
– 2 Danish modern chairs from local church bazaar
– behind window – roll-down shade from Ikea
– pillow by fashion designer Bas Kosters, Amsterdam
Bedroom:
– "Mandal" Bed frame with storage underneath from Ikea
– vintage paint-by-number paintings from eBay, Goodwill etc.
– "Billy" bookshelf with glass door and DIY painted "1"
Hallway:
– multiple "Besta" cabinets from Ikea placed side by side
– "Biby" glass cabinet from Ikea, contains a small selection of our much larger collection of vintage "perpetual calendars" from around the world, kitschy metal souvenirs from all the cites we've ever visited and various other vintage letters and misc. printing-related pieces
– on the wall/sitting on shelf: various vintage signs, French perpetual calendar and rubber stamp alphabet collected from our travels in Europe. Ceramic bowl made by a friend in Amsterdam and paintings done by Henry.
Throughout:
– Click Rail picture hanging system (ashanging.com)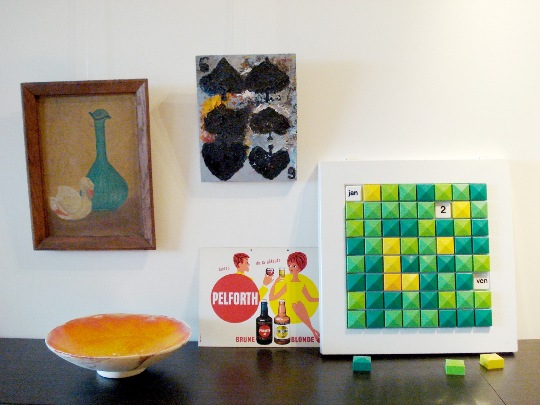 >>
(Thanks, Melissa and Henry!)

Photos by Melissa and Henry Interested in sharing your home with Apartment Therapy? Contact the editors through our House Tour Submission Form.
Published: Jul 13, 2009