House Tour: Todd and Nicole's Project Precita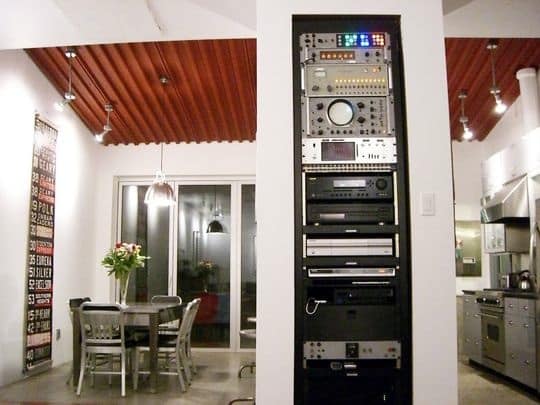 >>
Name: Todd and Nicole

Location: Bernal Heights, SF

Size: 1800 sq. ft.

We can promise you that you've never seen a house quite like Todd and Nicole's. They're truly expert scavengers, and the result is amazing.
Years lived in: After 2 unpleasant years of top-to-bottom renovation, we've been living in it for 18 months.

Inspiration: The open layouts of Frank Lloyd Wright, the broken ruins of the former Hunter's Point Naval Shipyard, the converted Army barracks at the Headlands Center for the Arts, the Golden Gate Bridge.
Our style: Contemporary modernism meets the military-industrial complex.

>>
Favorite room: The combination kitchen, dining room, and living room area. Each of these spaces is works well unto itself, but the open circulation between them is terrific for socializing.

Most talked-about element: The large, backlit chunk of Boeing 707 fuselage that hangs in the living room. We found it at a Tucson aircraft scrapyard and had it shipped back to SF. After we stripped off the paint to reveal the bare aluminum, we wired it for illumination using inexpensive rope lights.
Most embarrassing element: None so far, but time will tell!

Proudest DIY: The living room media rack. That location was originally supposed to be a gas fireplace; instead, we bought a used server rack for $100, flush-mounted it in a custom-built alcove, and installed a flat screen TV (on a swing-arm) along the adjacent wall. The rack has been a standard for decades, so to fill the extra space, we've been acquiring and rewiring old laboratory equipment to give the rack an interactive, Dr. Strangelove-in-the-Batcave feel.
Dream source: Boeing, the US Navy, NASA.
Reality source: Aircraft boneyards in the desert southwest, abandoned military bases scattered throughout the Bay Area, McMaster-Carr, serendipity.


>>
Best advice: Remember: You can have it done well, quickly, or cheaply, but you can only pick two.
Found treasures: An old employee bulletin board found amid the ruins of the Hunters Point Naval Shipyard, and an old SAS Airlines beverage cart we use as a living room bar.
Had forever: An aluminum cube locker, removed from a US Navy ship, that we use as a bedroom dresser.
Just got: A 1960s-vintage Hewlett-Packard oscilloscope for the media rack. It's got a wonderful bezel that makes it look a like a radar unit.
Sources for Bathroom fixtures, etc. (if redone): Chicago Faucet, Toto toilets, Dornbracht sink, Japanese-style toilet seat from Brondell, Aluminum soap dish and shower shelf repurposed from awdirect.com, a tow truck equipment supplier. (Look for items CP-50 and CP-51.)
Sources for kitchen fixtures, etc. (if redone): Ikea cabinetry, laboratory-style counters from Fireslate, waterproof patio light switches from Home Depot (used indoors for industrial effect), Chicago Faucet, homemade light fixtures built from standard electrical conduit.
Thanks, Todd and Nicole!
(Editor's reminder: When leaving comments, play nice
or you'll be asked to leave the sandbox.)
Apartment Therapy supports our readers with carefully chosen product recommendations to improve life at home. You support us through our independently chosen links, many of which earn us a commission.