House Tour: Tonya and Ben's Den of Overhead Storage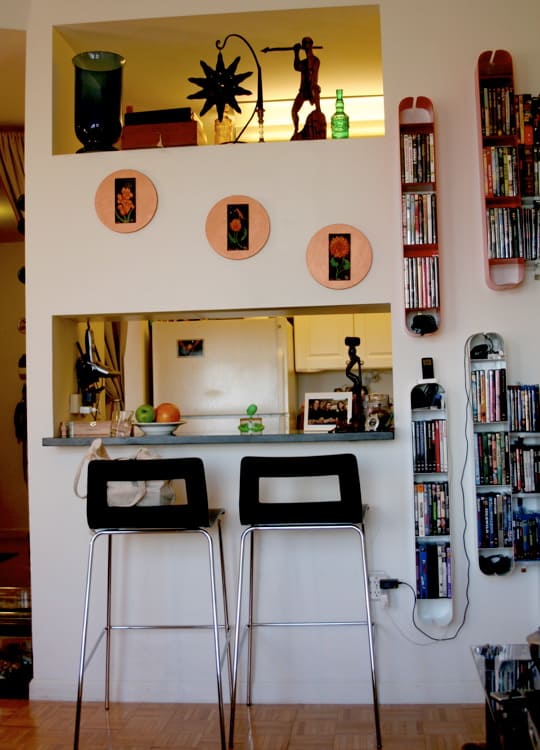 Name: Tonya and Ben (and Maggie the dog)
Location: Financial District
Size: 700 sqft one-bdrm rental
Lived in: 8 years in the building, 6 years in this apartment
>>
Tonya and Ben had just moved to Lower Manhattan from Atlanta when the World Trade Center collapsed. Through the generosity of strangers and the sheer will to remain here, Tonya and Ben moved to a new apartment in their original building and still call New York home. On the domestic front, they've collected a lot more than memories....
>>
So, they need space. Tonya loves to experiment with materials, especially those found in hardware stores, and her boyfriend likes to accumulate stuff. So, to address two interests at once, Tonya and Ben have made almost anything in their home that looks or acts like a shelf. In that they have high, ceilings, vertical storage is their first, second and third resort. They have shelves in every closet, over every closet, over every doorway, and on almost any blank wall space they can access. They even store themselves in extra vertical space--Tonya and Ben sleep in a loft bed over Tonya's small office!
AT Survey:
Style: Modern, industrial, curvy, metallic
Inspiration: Maggie, three lives merged into a small space, the neighborhood and lots of other stuff that would bore other people.

Favorite Element: High ceilings, sunlight streaming (or blasting) through the arched windows, the huge arched windows and façade detail (planning to build a window seat if we stay here long enough), the view (though diminished) of the Hudson River and evening sunsets and the art of friends, family and fondly remembered places.
Biggest Challenge: Keeping it tidy.
What Friends Say: It's like you're not in Manhattan.

Biggest Embarrassment: The tumblin' tumbleweeds of Maggie's fur, our hair and copious amounts of Lower Manhattan dust. It's hard to control even with a Dyson Animal and Hoover FloorMate. Oh, and opening a closet door and exposing the "home office" during the house tour.

Proudest DIY: Quite pleased with the bookshelves, media stand, faux painted mirrors and alcove walls, the "bouncing bronze balls" in the living room, Ben's photographs of household and neighborhood objects and Maggie's elevated pet feeder/fountain and back splash.
Biggest Indulgence: The motorized sofa that comfortably snuggles three most nights.

Best Advice: If you live with a big dog in a small space, rugs will be soiled and/or licked clean of texture, it's easier not to have them unless they're Flor tiles. Don't put anything fragile (or edible) at tail or nose level and leave lots of unobstructed room for play and the charge to guard the apartment door and windows from passersby, lost pigeons and car alarms.
Dream Source: Maggie, sunsets, Lower Manhattan, water, sunshine (do-be-do-do-be-do).
Sources:
Custom Curtain Rods between rooms — John de Lorenzo & Bro
>>