A Magical Attic Apartment with a "Genie Bottle Bedroom"
We independently select these products—if you buy from one of our links, we may earn a commission. All prices were accurate at the time of publishing.
About this tour
Location
Kenwood, Minneapolis, Minnesota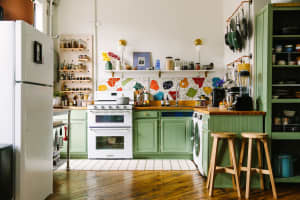 Can't-Miss House Tours Straight to Your Inbox
Keep up with our latest house tours each weekday with our House Tour of the Day newsletter
Name: Terra Zosel
Location: Kenwood Neighborhood, Minneapolis, Minnesota
Size: 800 square feet
Years lived in: Rented 6 months
The story of Terra's apartment is multi-fold. Her home occupies the attic of her grandparents' house where she lives as caretaker to her grandmother. Her grandparents purchased the home in the 1960s from a couple who relocated from Minneapolis to the significantly warmer state of Florida. Little information is known about those earlier owners or what the "genie bottle" room was used for, but Terra does know that it remained largely untouched from how the former resident — an artist — left it.
Editor's note: I've never seen a home like this before…and likely never will! It's one-of-a-kind and deserves another look.
As a child, Terra and her cousins often visited their grandparent's attic — it was the play room, the place for children to escape to, explore and stay out of the way of the adults in the rest of the house. Years later, various grandchildren have occupied the space for various reasons and lengths of time. Just before Terra moved in, her cousin kept this amazing bedroom dark and dim, with only a beanbag chair and television for video games. Terra's presence in the unique space has given it new life.
Terra recently moved back to Minnesota from Chicago. After moving into this magical space from her childhood, Terra realized that she has been collecting furniture and decor to fit this room — and its undeniable style — for years.
Apartment Therapy Survey:
My Style: Elementary school teacher, meets junk store owner, meets Mary Poppins — bright colors, all of the knick-knacks and a place for everything and everything in its place.
Inspiration: My mother and her six seasons of decorations (Christmas, January, Valentines, Easter/Spring, Summer, Halloween/Fall). And I'm not talking just a picture frame or two. These are switch-overs that take one or two days, in which all photos, artwork, vases, candle holders, sometimes even sheets and curtains, are changed out. It's insanely impressive and a lot to live up to. That and Ariel's treasure trove before King Triton smashed everything.
Favorite Element: Since I was a kid I have always "dreamed" of living in the "genie bottle" bedroom with its mismatched tapestry walls and ceiling. Now that I am and my things all fit in so seamlessly, I realized I've basically been collecting pieces my whole life trying to recreate this look sans the fabric. Now that I'm living my full Barbara Eden life, it really is everything I'd dreamed of.
Biggest Challenge: Knotty pine walls; it's hard not to feel like I'm in a cabin all the time.
What Friends Say: "Your home feels so homey," "oooh when did you get that?" "Our thirteen-year-old selves would be so impressed right now"
Biggest Embarrassment: Carpeted Bathroom. There's really nothing more to say about that.
Proudest DIY: Mastering a drill. As a single woman, knowing how to find the right drill bit, place an anchor, and successfully hang something by myself saves a lot of time.
Biggest Indulgence: My closet. It's a walk-in big enough for two and I take up every square inch. Not to mention my three dressers.
Best Advice: "You should buy that." I'm a very aggressive shopper and I often push purchases on others, suggesting things I think might look good in their home. I'm not usually wrong. And the bottom line is, if you love it, can afford it, and it will bring you happiness within your space, go for it. That and, shop resale! It's good for the community, the environment, and you find endless gems.
Dream Sources: The Anthropologie catalog, Land of Nod, Patina, Ace Hardware and any resale store I've walked into ever.
PAINT & COLORS
Most of the space is covered in vintage tapestries that have been here since at least the '60s. The rest of the space is knotty pine. I'd love to paint the bathroom wood at some point.

ENTRY
Felted wreath — Patina
Hook — a gift
Framed art — an old calendar of my Mom's
Bottle cap cross — made by my uncle
LIVING ROOM
Paintings — By my Grandpa
Turtle photograph — Shot by my Dad in Mexico
Plant stand — Cottage House
Day lily — Bachman's
TV cabinet — Vintage w/ homemade curtain
Cord corral — Roost (Chicago)
Coffee and side table — My dad made them in his HS shop class
Coasters — Patina and I Like You
Small box — Kowalski's
Candle Holder — Patina
Glass vase — Cottage House
Arm chairs — Vintage and recovered by my Grandma
Throw pillows — World Market
Cedar trunk — Family heirloom
Lamp stand — made by my Grandpa out of old fruit crates
Lamp — Value Village
Glass knobs — Patina
Framed art — purchased in Italy with frames from Walgreens
Chippewa wool blanket — Family heirloom
KITCHEN NOOK
Table — Brown Elephant (Chicago)
Vintage folding chairs — Woolly Mammoth in Chicago
Decorative plates — Four Sided in Chicago
Clock — Target
Wooden spoon — Patina
Slate MN — Patina (Heart added w/ nail polish)
Winona fruit crate — Cottage House
Framed photo — Ikea/my photography
Hanging plant baskets — Good Company Wares
Cacti — Patina
Glass flowers — Patina
Shelving — Target
Hanging organization/containers — Ikea
Tea caddy — The container store
Tea art — Popchart Labs
Frame — Back alley find
BEDROOM
Headboard — Family heirloom
Trunk — family heirloom
Bedding — Anthropologie
Nightstand dresser — Garage sale
Lamp and shade — Target
Tissue box cover — Cottage house
Clock dock — Amazon
Small nightstand — Garage sale
Books — Vintage/gifts
Chair and footstool — Vintage Garage Sale (Chicago)
Curtains — Little India (Chicago)
Drapes — Ikea
Painting — Mary Solberg Shelf — Ikea
Framed art — Ikea/old greeting cards
Framed print — Gift
Bird — Urban outfitters
Metal container — Patina
Dresser 1 — family heirloom
Handmade Treasure box — by my uncle
Alabaster lamp — junk store
Shade — Target
Mirror — Land of Nod
Framed art — Gifts
Ceramic pot — Arizona airport
Metal Butterfly — Good deal garage
Box — Ikea
Candle — Gabriel John & CO.
Dresser 2 — Garage sale, repainted
Artwork — By my uncle
Cigar boxes — Junk store
Candle — Lafco
Vase — Cottage house
Metal Owl — Gift from South Africa
Dresser 3 — Family heirloom
Necklace rack — Urban outfitters
Glove form — Ravenswood antique Mart (now closed)
Vintage Stiffel lamp — Ravenswood Antique mart (now closed)
Jewelry box — Target
Perfume tray — Goodwill
Cat dish — West Elm
Framed art — By my uncle