The One Thing You're Probably Doing Wrong When Repotting Your Plant
We
independently
select these products—if you buy from one of our links, we may earn a commission. All prices were accurate at the time of publishing.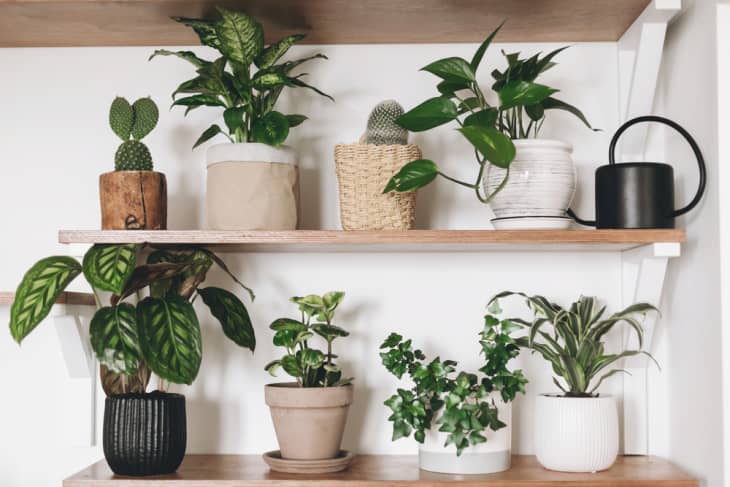 The Small/Cool Experience at Home is bringing 20 trends to life by 20 designers—all in less than 120 square feet. Check out the whole virtual experience online and at @apartmenttherapy on Instagram from May 15-17. Thank you to our sponsors BEHR, Amazon Handmade and Tuft & Needle for making this experience possible.
Of the (many!) highlights of our Small/Cool Experience at home, one of the best was a plant repotting tutorial, straight from the Plant Doctor Himself. Hilton Carter held a step-by-step demonstration on how to repot a houseplant over on the @apartmenttherapy Instagram (more on that below), and it made the endeavor seem totally doable and even easy. But it turns out you might be making a big mistake before the physical potting process even begins—by picking the wrong-sized pot.
The planter is the home in which your houseplant will hopefully thrive in, so it's crucial to make sure the pot is just the right size. Carter said people should select a pot is getting one that's two inches bigger, diameter-wise, than its nursery or previous planter. Going from a small pot to a giant one is a big no-no!
In addition to the size, Carter also said to think about the material of the pot, which can help control moisture levels according to what your plant needs. "You can't just place a succulent or cactus in any sort of pot, it has to go in something that'll also strip away that moisture." For plants that need dry soil (like succulents and cactuses), Carter suggested terracotta or clay plants (and one with a drainage hole, too!). On the other hand, a fern would need a glazed clay or plastic planter with no drainage hole to retain the soil moisture that the plant needs.
Once you've got your right-sized plant, it's time to get to the hands-on part of the repotting process. See below for Carter's tips on how to make it an easy transition:
1. Pick the right kind of soil
Just like being mindful about your pot, you also want to pick the right soil to suit the moisture level your plant needs to thrive. As Carter repotted his jade plant on IG Live, he explained that succulents need to have dry soil to reduce moisture after watering. "Because they like dry soil, you're gonna want to have fast-drying soil," Carter said. He also included some pearlite (those little white specks) in a 1:5 ratio in the soil.
2. Fill the pot one-third of the way with soil.
After you made a decision, fill your planter with scoops of soil until its one-third of the way filled.
3. Remove your plant from its previous pot (carefully!).
Proceed slow and steady with this step to prevent any root damage. If your plant is still in its plastic nursery pot, squeeze the sides of it to loosen the soil. That way, the plant can come out within too much effort.
4. Break the stiff parts of the old bottom soil.
Before placing the plant into its new pot, break apart some of the old soil that solidified at the bottom when you pull the plant out. This will loosen the roots and let them breathe.
5. Add extra soil around the edges.
Once the plant has settled into its new base, fill the surrounding empty spots in the pot with soil. This helps make sure your plant stays steady and upright.
Missed the Plant Doctor's advice in real time? Check out the rest of the tutorial and interview!