Design Dare: We Challenged Designers to Make These Tricky Decor Items Work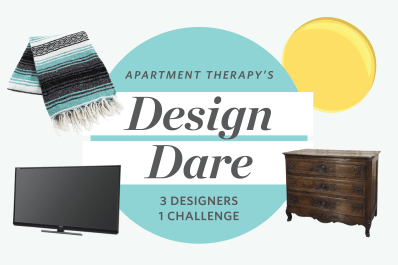 To someone like me—a person who has an appreciation for design but lacks the vision—the task seemed impossible. We asked three designers to take four items given to them in a "secret basket" that they might never have chosen on their own and turn them into a cohesive design that spoke to their signature style. It's like those cooking competitions where chefs are asked to create a delectable dessert but the catch is they have to use duck sauce—where I would be thinking that was only meant for egg rolls and wonton strips, they mix it with pralines or sangria and give it a whole new purpose.
In this case, we gave designers four items that didn't necessarily go together at first glance: a Mexican Serape Blanket, an 18th Century Country French Louis XVI Oak Commode, a bright buttery yellow paint, and a 60-inch television set since unfortunately most living rooms need to incorporate one (Stranger Things comes back on in October in case you weren't aware…so get that TV ready!).
So we gave all these items to the designers and basically said good luck guys. And here's the most fun part: Not only did they deliver gorgeous rooms, but every designer envisioned an entirely different space. Same room, same secret basket of items, but totally different aesthetics and true to each designer's creative ethos: Jeanine Hays and Bryan Mason of AphroChic conceived of a living room that fuses modern and traditional elements while embracing cultural influences; Caitlin Wilson designed a space with a fresh mountain-modern vibe; and Justina Blakeney of The Jungalow created a room that explodes with bohemian chicness.
Take a look at these living rooms and decide for yourselves which one you would try to emulate at home.
The Curveball Decor Items
AphroChic: Culture Bound
Let's start with Jeanine Hays and Bryan Mason from AphroChic. The husband-and-wife team has coined the phrase Modern Soulful Style to describe the feel of their interiors and home decor collections, and you can usually find a mix of time periods and cultures in their designs. And this living room is no different. Mexican, Scandinavian and mid-century modern design elements marry to create a storied room that feels as though it's had a lot of life experiences.
The duo started by imagining the living room inside a traditional Brooklyn brownstone and painting the walls a moody hue called Black Star from their new paint line, Brooklyn In Color (fun fact: they named this color as an homage to the musical collaboration between Mos Def and Talib Kweli). A streamlined white Cube sofa from Article pops against the dark backdrop, and unique lighting suspends from the high ceilings. "Above the sofa, and to pick up on the blue in the wall color, we've installed a series of pendants from ferm Living," Hays says. "The mix-and-match pieces are a fun option, and are different from having the usual chandelier."
And here's where their real genius comes in: that Mexican serape? They didn't use it as a blanket. Instead, they gave it new life and used it as a rug. "And to continue with the Mexican influence," Hays says, "we've included two Sayulita black leather chairs from CB2 that are similar to the Acapulco chairs that are handmade in Mexico." Paige tea jars by Interlude from The Mine lend a tribal accent.
The duo placed the television on top of the vintage dresser (they loved having a vintage element in the room BTW), and juxtaposed its traditional curves with the more modern but still curvaceous hand-carved Parks end table in between the Sayulita chairs and a midcentury-modern Wilder cocktail table, both from Room & Board.
And for an interesting detail, they took that bright yellow paint and used it on just the inside edge of their imaginary room's doors so that you can appreciate the bright pop of color as an unexpected surprise only when the doors are open. Two oversize art pieces from Uprise Art—My Turn and Like a Fish between Two Cats II—play off that yellow moment and complete the color story.
Caitlin Wilson: Modern Man Cave
Caitlin Wilson's designs are always fresh, fun and flirty. Her textiles are usually filled with florals and beautiful blush and lilac hues. So when I saw her design, I was so excited by the more rugged feel of navy, chocolate brown and black—though truth be told, the patterns, lines and palette are pretty androgynous. "My inspiration for this design came specifically from the required pieces and the client that would want a room designed around said pieces," Wilson says. "I determined that it would be a man who just wants to come home after a long day of work and spend some down time in a cool, collected space. I wanted it to give off the man cave vibe without sacrificing style, and to be comfortable and functional."
She accomplished this by using a few key pieces from her own line—the Simone rug in Dove to set a neutral tone for the room and the Rowan sofa in Herringbone Navy embellished with a gray gingham pillow, a butterscotch windowpane pillow, and a black burnside buffalo check pillow. The pillows add interest to the solid sofa along with a preppy plaid lumbar throw pillow from High Street Market, and linen navy curtains from Anthropologie support the color scheme.
To round out the seating and bring in another texture, Wilson found Leather Rhys chairs at Anthropologie and added even more personality to them by draping the Mexican serape over one of the chairs. An espresso Gismo coffee table from One Kings Lane continues the theme and complements the antique commode. "But to avoid feeling too heavy," she says, "I threw in the white textured Cabot side table from Serena & Lily with a gold finish. This allowed me to tie in the Jenson aged brass pharmacy floor lamp and brought some warmth and polish to the space."
To add life and dimension to the room, Wilson introduced an indoor tree, faux antlers from BlackForest Décor, and a painting from High Street Market called Summer Field—though if you're feeling creative, she suggests you might try painting your own landscape using the yellow paint.
Justina Blakeney: Fashionably Funky
For Justina Blakeney, the choice was obvious. The antique commode clearly had to be painted with the bright yellow paint. And as soon as she did, it turned into a fun conversation starter that inspired the rest of her room. "Yellow is a very upbeat color that led me to add in pieces that feel happy, sunny and bursting with personality," she says. "The room is meant to feel eclectic, collected and colorful but the cohesion of the colors is meant to make it look uplifting without it being too chaotic."
The serape's teal color was the perfect complement to all of the yellow, so Blakeney added pops of blue throughout, like this turquoise juju hat from Etsy, the Velvet Elowen armchairs from Anthropologie, the Tangier Artisan side table (and actually, there's one in yellow, too), and her own Palm Tree Fringe pillows. She adorned a statement wall with her bold, graphic Nana Saffron wallcovering for Hygge & West, but she went neutral (but not boring, she notes) with the rest of the space: the other walls are painted in a clean, white chalky paint (think Portola Paint's & Glazes Sea Salt), the floors are light wood, and the room is filled with natural light. The Calabash hanging pendant and Kahelo gray and silver rug from The Jungalow, and the Audrey media console from West Elm offer more neutral tones, but Blakeney's Ayo mirror and Brass Bette stool for Selamat offer cheeky accents along with Kenesha Sneed's Woman in Bleu.
A Turkish hand woven floor cushion found on Chairish, a vintage painters pallete with floral applique, a curvy, soft yellow-lacquered coffee table, and a bennington potters stoneware bank lion figure also found on Chairish add to the room's personality. But the star of the show if you ask me is the Linen Cardiff sofa in Daffodil from Anthropologie. That chartreuse-y hue is mouthwatering, and the sofa has a brass base for crying out loud.
And in true Jungalow style, the room would not be complete without adding a couple of live plants. Naturally, one of them is a giant citrusy lemon tree, and its perfect mixture of green and yellow is enough to make any grab bag of design ingredients instantly better.
Now it's time to voice your opinion. Cast your vote below on who you think worked our decor dare items best...
Apartment Therapy supports our readers with carefully chosen product recommendations to improve life at home. You support us through our independently chosen links, many of which earn us a commission.