How Being One of Five Kids Prepared Me For Dorm Life
We independently select these products—if you buy from one of our links, we may earn a commission. All prices were accurate at the time of publishing.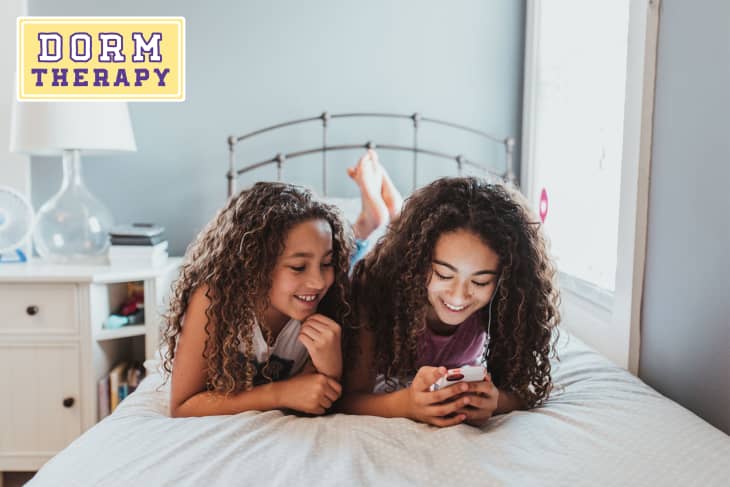 I am the "weird" sister, according to my siblings. One of my favorite childhood birthday gifts was a rock tumbler. I did science experiments in our basement (which involved bleaching our gray carpet once), and I loved painting large abstract art pieces that I eventually displayed in my shared room with my sisters. I wouldn't say I was "weird", but rather, I had very specific interests and pursued them. Sometimes, that got in the way of others' space, especially because I grew up in a family of seven people. 
I am one of five children, the second youngest, and one of the four girl siblings. If I am the "weird" one, my youngest sister is the "baby." My second oldest sister is the "loud" one. My oldest sister is the "quiet" one, and my brother is the "class clown." 
Follow Topics for more like this
Follow for more stories like this
When I was younger, I shared a room with two of my sisters. Beyond physical space, I shared clothes, emotions, and problems with my entire family. With so much being shared, one could argue I have been practicing for dorm life since childhood, especially in terms of how to deal with personalities and living habits that may differ from my own. 
My "weirdness" manifested itself in things and creations that often found their way back to my shared spaces with my sisters. I loved to collect snow globes, which I would display on multiple shelves in our room, and I found a reason, even when irrelevant, to hoard every single paper I received in grade school. Allowing items to pile up in my corner of the room was my specialty—and my siblings and parents urging me to clean up and throw things out were their specialties. 
My mother loves to clean, which means my need to save everything often clashed with her need to tidy up spaces. My siblings didn't save unnecessary items. I didn't mind having spare papers and clothes on the floor. As the days progressed, and I continued living with at least one of my sisters until I was 12 years old, my messy habits had to change or my siblings would never stop being cluttered by my stuff. 
Eventually, I learned the power of throwing out unneeded items after multiple conversations and encouragement from my siblings and parents. With five kids all trying to vie for our parents' attention, later bedtimes and the front seat in our family's car, I also learned that living with others requires patience and tolerance, but also assertion and communication. 
Our personalities often find themselves at odds with one another. Sometimes it was easier for my loud sister and class-clown brother to communicate their needs more clearly than my quiet sister or me. These differences did result in miscommunications and fights, but never made living together unachievable. 
It wasn't always easy being forward with my needs, and it also wasn't easy to realize that sometimes I was the problem. It took a lot of practice to fix old habits and to properly communicate with my siblings, which presented itself in the form of yelling, arguing, tattling, time-outs, and many apologies. 
I finally got my own room when I was 12 years old, and I kept it mostly clean. Sometimes, I find myself reverting back to my old messy ways, but it never lasts. I had my own space until college when I found myself back in a shared room—this time, with a stranger. 
I was ready to share a space again, however, because I had patience, tolerance, assertion, and communication on my side. I also knew that no matter my roommate's personality type, we could, at least, always remain civil as long as both of us acknowledged that anything is doable when you communicate. 
I also knew it was important to remain my "weird self." From growing up with siblings and letting my interests shine through, I learned that how I defined "weird" as a child has grown and blossomed into creativity and curiosity in my adulthood. I apply this to living with a roommate by recognizing that with all the activities I have participated in during college—rowing on the crew team, learning ballroom dancing, writing for my student newspaper, joining a professional fraternity—I needed to limit the number of physical objects I brought back into the room that represented these creative outlets.
Rather than bringing in 40 copies of my student newspaper into the room, I would bring three or four and keep them within my space. By hoarding fewer keepsakes from my interests, it not only kept our room cleaner, but it also allowed my roommate, especially my sophomore-year roommate, to enter into my interests in a curious way over an annoyed "clean-up-this-space" way.
The best behavior you can practice with your roommate is talking to them. When you arrive at college as a first-year student, it can be intimidating to live with another person whom you don't know. Therefore, establish your own boundaries early on and never be afraid to refer back to them when needed. 
Want more dorm ideas, inspiration, and stories? Head over to Dorm Therapy HQ!