How Can I Hide My TV Cords (When I Can't Drill a Hole)?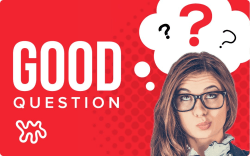 (Image credit: Apartment Therapy)
Q: So, the only spot for my TV in our living room is in front of a wall that has a brick fireplace under the drywall. As much as I'd love to break that sucker out, we aren't financially or emotionally ready for that project. Since I can't drill into the wall and hide my cords, what's a girl to do?
(Image credit: Submitted by C)
Also worth mentioning, we have wainscoting that prevents those super cool plastic cord-hider-contraptions to lay flat to the wall, so those are kind of out of the question as well. — Sent by C
Editor: Thanks for sending this in C (love the face planter btw). There's the book trick, but I'm sure our readers have got some other smart solutions to throw your way! - thanks!
• Have a question for our community? Send us yours with a photo or two attached (questions with photos get answered first).