How Should I Design an Aging-In-Place Kitchen?
Welcome to Wilsonart Wednesday! We've teamed up with the kitchen experts at Wilsonart to answer our readers' questions about kitchen renovation.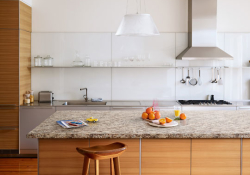 Q:
What are the recommendations for designing an aging-in-place kitchen, accounting for possible future need for a walker or wheel-chair, or for a place to sit while working at the counter?
- m_j_s
A: Giving thought to your future needs when planning a kitchen remodel is a great way to make the most of your money and to ensure that your kitchen will continue to be the kitchen of your dreams for years to come, even as your needs change. Kudos to you for planning ahead!
When planning for wheelchair/walker access, there are several elements you'll want to consider.
General space allotment for a wheelchair turning radius is approximately 5 feet. As such, you'll want to ensure that any workspace has at least 5 feet of clearance within the working triangle so that the person utilizing the workspace won't have to leave the area just to turn.

Consider planning two different heights for counter space; 34 inches is the countertop height recommended by the ADA (Americans with Disabilities Act), and having this working area free from obstructions underneath is ideal for safe and easy mobility. 36 inches is the typical and standard finished height. Having both heights available in your kitchen will ensure that many different occupants will be comfortable while working.

Similarly, ensuring that the sink is built at the same 34 inch height with levered faucet handles ensures easy operation by many.

Within a hallway, 36 inches is the minimum clearance for one wheelchair to comfortably pass through. As such, when considering a kitchen you'll want to ensure you have a minimum of 36 inches space between the walls in a galley kitchen and between the walls and island in a kitchen containing both. That said, having more space, say a 48 inch minimum would be ideal, allowing more than one person to be in the kitchen at once.

Finally, reach ranges should be considered as well; the maximum length of a seated side reach is 46 inches, and a seated forward reach is 44 inches maximum. You'll definitely want to consider these dimensions when designing your shelving. In general, open-shelf plans will allow for the easiest reach from a seated position — as an added bonus, they also happen to be very in-style right now.

These are five general rules to keep in mind. We'd recommend talking with your contractor to have a more in-depth conversation about accommodating your future needs. We hope this information is helpful as you plan your kitchen remodel!
(Image: Wilsonart)