Decor Rules of Thumb: Tips for Buying the Right Barstools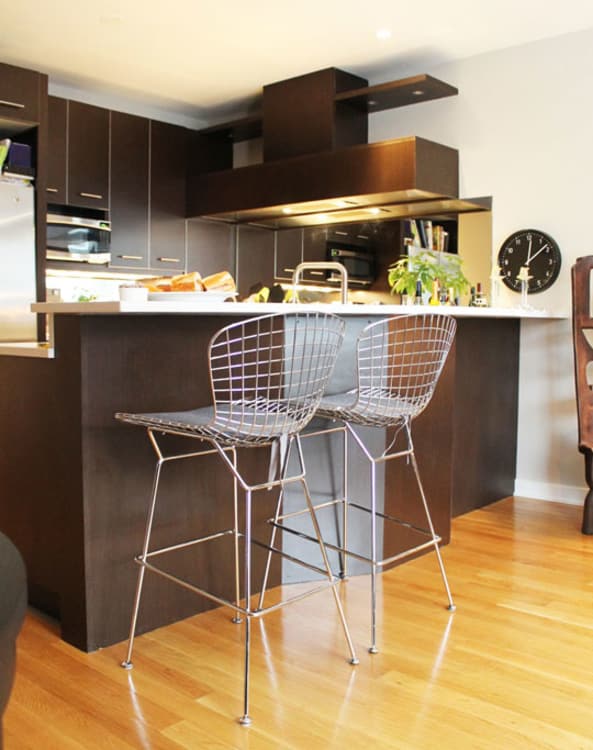 It sounds so easy— you pay your money and they hand over your stool.  Not exactly. I recently learned the hard way that there's a little more to it than that.   
Avoid endless trial and error by carefully considering these elements before picking your stool:
1. HEIGHT
As a rule of thumb, there should be about 9''-12'' between your seat and your table surface.  Bars are usually 42'' high and standard kitchen counters are 36''.  But remember what they say about the word ass-u-me, get out your tape measure and make sure. Here's a handy graphic from F. G. Bradley's to help:  
2. WIDTH
Do a little math to determine how many stools will fit at your counter.  Take your counter length and divide by the width of your stool plus five inches.  If you choose a stool that has arms, a particularly wide base or one that swivels, budget a little more wiggle room in between. 
3. MATERIALS
This is the fun part— there are options galore and your choice should be driven by how you expect to use them along with more aesthetic concerns.  Maybe you want a seat for a quick cup of coffee in the kitchen, but need to be able to tuck your stools away.  Try classic, low-profile industrial steel.  Are you using stools for dining?  They should be comfortable enough to linger over a meal so consider models with back support or some upholstery for cushioning.  
As for me, I'm still hunting so tell me, what's your seating situation?  Have you found your perfect stool?    
(Images: 1. Elizabeth & Brent's Rented Luxury, 2. F. G. Bradley's)