How To Arrange a 448-Square-Foot Cottage for a Family of 3?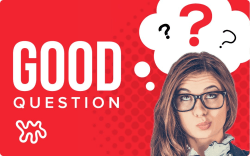 Q: Hello! My parents are in the process of building a small studio cottage for my boyfriend and I- oh, and our surprise baby! The biggest problem is not really how everything is going to fit, but where. I usually can look at a space and know exactly where I want to put everything, but I'm having the hardest time imagining a layout for this space that will work the best for us...
I attached our floor plan and any help or ideas would be much appreciated! We don't own a lot of furniture pieces as we're very minimalistic. These items are what we absolutely need in the space though:
King size bed
Bookcase
TV stand
Crib
Changing table
Couch
Some specs:
The cottage is going to be 28'x16'
The kitchen area is in the top right across from the front door. The sink will be the end point. It's going to have an island where we can eat rather than us having a table.
The bathroom at the bottom right will have a pocket door where you see the existing door in the plan.
Thanks again for any help!! -Sent by Danielle
Editor: I've shared an apartment that size with another adult and a music studio, but a baby? Who will quickly become a toddler? Please share your Small Space Family Living advice with Danielle and her growing family!
• Have a question for our community? Send us yours with a photo or two attached (questions with photos get answered first).