How to Avoid a Breakup During a Painting Project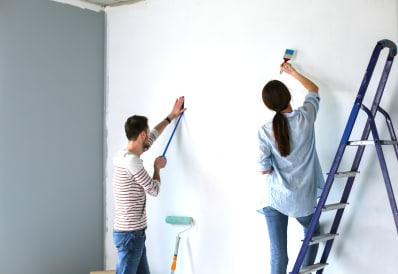 You and your partner are best friends. You've been together long enough to finish each other's sentences; your friends refer to the two of you as #RelationshipGoals; and you tag each other on Instagram captions at least once a day. Trust me, though, none of that matters when you try to do a "simple" home improvement project together, whether that's painting one room or — worst of all — assembling a piece of flat-packed IKEA furniture. Within 10 minutes, one of you will be using profanity in surprisingly creative ways and the other will be Googling, "Can I kill a person with a hex wrench?"
But it doesn't have to be like that.
Let's say that you're really going to repaint that guest room, finally getting rid of that sickly green shade you rarely see outside of abandoned hospitals. With a little planning — and a lot of well-managed expectations — you can start and finish the project together, without a single homicidal search query.
First, be realistic, because you don't do this professionally and you're not off-duty HGTV hosts. By the time you do all of the tedious-but-necessary prep work (cleaning the walls, vacuuming, unscrewing every single outlet cover), paint and clean up, that one-room DIY job can actually take a couple of days. Also, accept that one of you will probably make a (fixable) mistake or spill something, so just keep some cleanup supplies on hand and be prepared to chew the end of your tongue in half if it keeps you from being critical.
Be prepared — and start early. A few days before you plan to paint, take an inventory of what you have and make a list of everything you need, whether it's the obvious things like, you know, enough paint, or the easily forgotten items like roller covers, caulk, and even snacks to keep on hand while you work.
Know what you're doing. Your living room isn't exactly the Sistine Chapel ceiling, but if this is your first time painting — or your first time DIY-ing together — checking out a few How To–style YouTube videos won't hurt. Also, try to make all of the real decisions before you start, whether that's what color you're definitely using, or where and how you'll move the furniture out. You don't want to have to decide anything when you're six hours in, already exhausted and wondering why there are handprints all over the dog.
Divide and conquer. Decide in advance who's going to do what. For example, one of you can vacuum while the other wipes the walls down, one can tape the trim while the other smooths out the drop cloth. This'll speed the process along and (hopefully) keep you from getting in each other's way.
Take breaks. Painting can make for a long day. Or a long couple of days. You know your partner, so you know that he gets hangry if he has to miss lunch or that she likes to work in hour-long increments. Build in break time to snack, stretch, or just not paint for a few minutes.
Try to have fun. Just imagine how good it's going to look on Instagram later.
This post was created by the Apartment Therapy Creative Studio and is sponsored by Glidden®.
Thank you for supporting the brands that make Apartment Therapy possible.