How To Confidently Choose Paint Colors: Mark's Foolproof Methods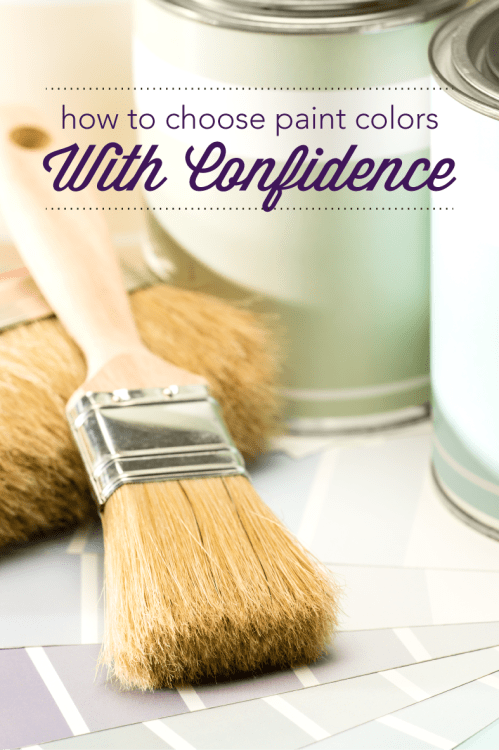 Last February, I invited past House Tour participant Mark Wynsma over to socialize, share some macarons, meet my Frenchie and discuss design. His home is fantastic with his brave DIYs, his eclectic style, and of course his bold and (very) successful use of color.
Many of my friends have mentioned his tour to me as their inspiration for painting their homes in bold hues, and now that I am looking to paint my home (currently all white), I naturally asked him for his thoughts. I knew that he had chosen his colors without so much as painting sample swatches; he made his choices with a sophistication and impressive innate understanding of color. He very generously offered to take a trip to the paint store to share his knowledge and give some tips on how to choose colors that are right for you.
Here is what I learned by talking to Mark:
Getting Started:
If you have decided to paint your home but are unsure of what type of color(s) you want to use, begin with a reference point. Think of a photograph you like, a piece of artwork, the colors in your wardrobe, and what colors you already have in your home. Think about what colors you are naturally drawn to. This will help you establish where you want to begin.
Look for inspiration everywhere. What is the view like from your windows? If you have a tree that you love, draw your eye there by choosing a bold color on that wall, in either a similar color or a contrasting color. Don't be afraid to
Take note of other types of design: stripes or lines tell the eye where to go when looking at a magazine cover, photograph or artwork — they can do the same in a room. To draw the eye up in a small room,
Three Rules To Keep in Mind:
• More than one color in a room can look great, but if you go in that direction, keep it to three colors maximum. If you are going with two bold colors, the third should be a neutral to give your eye a break.
• When choosing your colors start by choosing your boldest color, and then choose the others with the first color in mind.
• Don't be scared! Paint is not permanent and you can always change it.
Putting it All Together:
Below are some sample combinations to get you started. Some show more than three colors, with the idea being that there are several versions that would work equally well. There is never one right answer to a design question.
If you are looking to add just a light wash of color and want a light neutral, grey tends to look better than beige. There are more variations or tones to choose from in the grey family than in beige. If you choose a grey, don't limit yourself to the all grey sample cards — many color cards have a grey variation of the color. It might be that the best grey for you is on the far end of the purple cards.
You can keep your walls neutral and also have a darker color. Neutrals are not just whites, greys and beiges. They also include: black, brown, olive and blue. If blue doesn't sound like a neutral to you, think about how blue denim goes with nearly anything.
If you would like to add yellow to your space as the main color, try balancing it out with something neutral. When choosing a white to go with yellow, keep a check on how much yellow is in the in white you choose. You don't want a white with yellow in it or the reflection from the yellow wall onto the white wall will make it appear dingy.
If choosing a bold color with a vintage feel, add grey as a light neutral instead of beige. It will look more modern.
If you prefer to leave out white but want yellow, try pairing it with a grey, but as with white, choose a base grey carefully. It will also appear dingy next to a yellow if it has yellow in it. Opt for a blue grey rather than yellow grey. In the above, the grey would go with either of the yellow hues shown below it (not both).
Something to keep in mind if looking to add a brown is that browns often have red in them. Remember that warmer browns reflect light better. If you choose to go with a brown, think about using it on the wall by a window so light will reflect from the lighter wall.
Pink doesn't have to be too saccharine. Make it sophisticated by using it in tandem with a dark color. A rich jewel tone or a deep grey can make it feel more grown up. Don't discount pink — it adds a warm complementary tone to the lighting in the room. Try to avoid pinks with too much red in them. To keep your pink from looking like bubble gum, go for a slightly orange undertone.
Pairing warm colors with purple brings out purple's natural warmth. For a modern look add a grey color to the mix.
If you want to go with a red, think about the base color. Blue red is more industrial, while orange reds are warmer and easier to work with. If you are going with two bright colors of equal dominance, then paint a smaller amount of one of the brights, not two big walls.
Don't be afraid of using two greens (or any two shades of the same color) in the same room. Just watch the base white to make sure it has same base as the two colors.
While color is a very personal choice with many factors to think about, don't be afraid to go with your instincts. Mark's current favorite combination references nature and combines an ocean blue with green and orange. A bold combination, but one that I imagine he would make look fabulous in his home.
Thanks, Mark!
- Red-edited from a post originally published Febrauary 26, 2014 - DF
• Mark's Delighful (and Delicious!) West Village Home House Tour