How to Choose the Right Rug for Every Room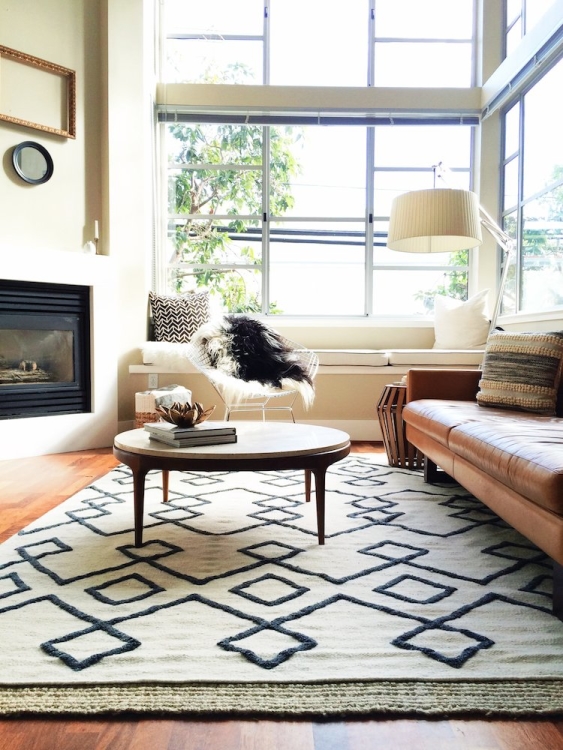 Choosing a rug can be an overwhelming design decision – from style to size to color to pile height, there are so many choices to make. How's a person supposed to decide? We posed this question to the experts at Loloi. This forward-thinking brand has long been one of our go-tos for design-minded rugs that are built to last — whatever the shape, size or style. We asked them for their best tips for finding the right rug for every room.
Bedroom
In the bedroom, an 8' x 10' works beautifully under a queen bed, allowing glimpses of the rug on all sides and making the whole room look bigger. For a modern look, mix a geometric pattern in neutral colors, like the hand-knotted jute and wool Loloi Sahara, with the soft florals and scalloped lines of a traditional bedroom, like this one designed by Traci Zeller.
Living Room
In the living room, colorful rugs like Loloi's Giselle (above) enliven neutral furnishings. The more colorful the better – somehow everything matches a colorful rug. The Giselle gets its strong saturation from its Indian weave of hand-knotted sari silks. (Love the pillows? They're Loloi, too.)
Dining Room
In the dining room, it's smart to select a rug 8' x 10' or bigger, so that the back legs of your dining chairs don't go off the edge. An all-wool flat weave, like Loloi's Anzio, is a durable, easy-to-clean choice. Styled by Emily Henderson, we love how the saturated color anchors this dining area and adds warmth and texture to a cool space.
Entryway
Your entryway sets the tone for the home, so go for a bold showstopper. An on-trend distressed pattern like the Loloi Journey fits the bill (and for way less than those vintage kilims). We love a dark color, like this charcoal, to keep things sophisticated. Bonus: the dark color and distressed look are perfect for a high-traffic area, concealing daily wear and tear between cleanings.
Home Office
If we worked from home and had this office, we'd look forward to Mondays all weekend. For the ultimate dream office, go for a plush rug that'll feel amazing when you kick your shoes off. (What's the point of working from home if you can't go barefoot, right?) The Loloi Kiara delivers a delicious softness that is both comfortable and affordable, and we love this modern take on animal print.
Living Room
Love the well-worn vintage look but not its heirloom price tag? Go with a deliberate coloration blend like the Loloi Nyla. We'd opt for an 8' x 10' in the living room; ideally, the rug should reach the front sofa legs. In most spaces, a 5' x 8' rug would underwhelm (and make the furniture seem like it's floating). Bigger rugs make the room feel bigger, too.
Kid's Room
It doesn't get much better for a kid's room than 100% microfiber polyester: It's soft, durable and easy to clean. In a bright and playful geometric pattern, like the Loloi Piper in green, it can both anchor the room and make for a cozy play area.
Whether you're a homeowner or a designer, Loloi has myriad stunning styles to spruce up your space. Find them at Wayfair, Rugs Direct and retailers nationwide. And if you're heading to April's High Point Market, check out Loloi in showroom IHFC D-320!