Get Your Kids Ready for the First Day of School By Cleaning Their School Bags and Lunch Boxes
We
independently
select these products—if you buy from one of our links, we may earn a commission. All prices were accurate at the time of publishing.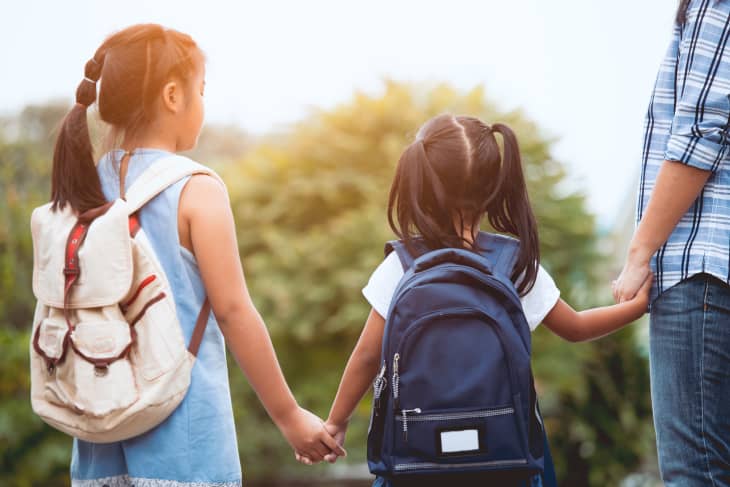 Remember the last day of school, way back in May or June? Full of the promise of long, lazy days stretching into nights spent swimming at the neighborhood pool or enjoying movies together (what even is bedtime?). It's so easy to jump headlong into the freedom and fun of less routine and the break from daily lunch-making, carpooling, and homework-checking.
But as the back-to-school season looms, with the specter of supply shopping and schedules casting a long shadow on the last days of a carefree season, it's time to start thinking about getting all those school day ducks in a row. 
One category of items, in particular, might come back to haunt you as that first day of school approaches: backpacks and lunch boxes. If you tossed them into storage after quickly emptying them out on the last day of school — and haven't given them a thought since — you're not alone. 
Digging them out and making them fresh and clean before school's back in session will get you started on the right foot. The best time to do that (so there's time for everything to dry) is right about now. Here's how:
Before washing your bags, make sure everything is out of them. Check all pockets and compartments. Next, shake out any dirt or crumbs. 
The easiest way to wash canvas or nylon backpacks and lunch boxes and bags is to put them in the washing machine — but not all bags are washing machine safe. Only put your bags in the washer if the tags specifically say it's safe. Otherwise, plan to hand wash them.
Whether you're able to put your bags in the wash or not, start your cleaning session by spot-treating stains. Use a small amount of liquid detergent or a stain spray, allow it to sit for a few minutes, and then scrub gently with a soft brush. 
Mix warm water and a small amount of gentle liquid detergent or dish soap in a bowl. 
Soft-bristled brushes are perfect for applying your washing solution and scrubbing out dirt. A small toothbrush is ideal for tighter spots or seams. 
Baking soda made into a paste works well for set-in stains. 
Diluted white vinegar is great for removing odors. Use a spray bottle for misting.
A rag for rinsing your bag. 
Apply your soapy water to your bags with your brush and scrub gently. Use your baking soda paste, toothbrush, and vinegar spray as necessary. 
Use fresh water and your scrub brush or a rag to clean the soap off your bags. 
Pat your bags dry with a towel and then set them out to dry in the sun. Sunlight will help clean and deodorize your bags naturally.