How to Create a Beautiful Buffet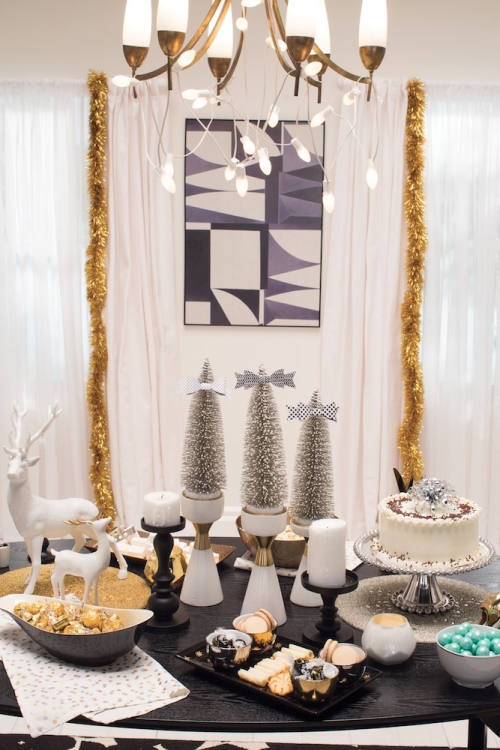 (Image credit: Target)
We've all been to the holiday party with the lackluster spread: You know, the one with the sad-looking shrimp cocktail and the flimsy plastic deli trays? We're pretty sure that science backs us up on this: food tastes better when it's served from a beautiful buffet. Right, science? This year, let's build a food table that's delicious, decked out and — dare we say — glamorous.
Set a sparkly mood
All you need is a little shimmer to make for a festive party backdrop. Which is why we like a LOT of shimmer. A metallic garland is a must, candles are a luminous no-brainer, and we love a good string of lights. You can even steal some of your gift-wrapping tinsel to use as a cake topper! A simple color palette, like basic black and white, makes a sophisticated backdrop. And we are all about mixing metals – gold, silver, copper, rose gold – bring it on.
Vary Your Verticals
Add texture and visual interest with different shapes and heights on your food table. Pair assorted tall candlesticks with low votives, marry big bowls with long, flat trays, and don't forget your reindeer family. Give your guests' eyes as yummy a feast as their bellies. Small touches make a big difference: we love contrasting matte and metallic, shimmery and flat. And speaking of small, we'll be stealing the idea to hang paper snowflakes from the door knob, thankyouverymuch.
Eat with your eyes
Glitz and glam aren't just for decorations. Whatever you're serving, give it a little extra love, and it will become a crucial part of the decor: Choose the perfect macaron colors, find gold-wrapped chocolates, finish your cake with a dusting of shaved chocolate and a bow, and put workaday snacks like popcorn and chips in bowls fit for a festive feast.
Get everything you need for a glam holiday buffet at Target!