Room & Board Presents: A Workspace that Actually Works
- Sponsored Post -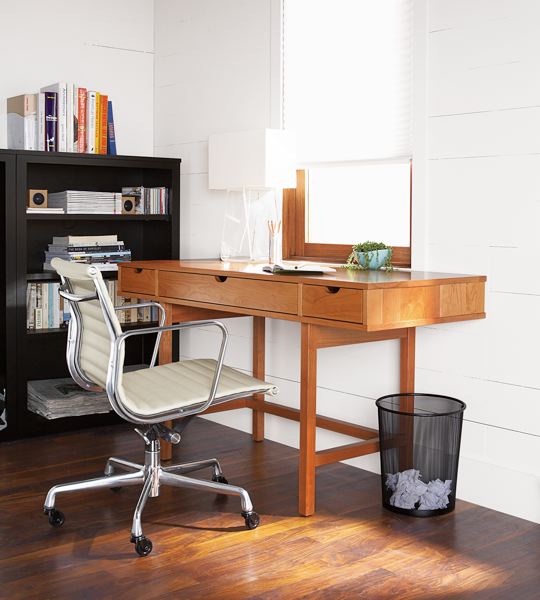 When anyone at Room & Board has an idea for a product, their voice gets heard. While not the easiest way to innvoate, collaboration is Room & Board's mode of operation. Opinions come in from the merchandising manager to the people working in the warehouse to the owner to the vendors! The Ellis desk is a great result of this extra democratic and unorthodox process.
While it looks like a classic writing table, it also has a secret pragmatism. The middle drawer pulls open and flips out to accommodate a keyboard or the whole laptop itself. So you can keep up the ruse of being so 'beyond' technology and maintain a minimal desktop with that one perfect pen and leather blotter.
For those with a bit more storage needs...
Room & Board offers the Copenhagen. While there is a lot more room for stuffing things away, the doors all close, hiding your potential clutter away and behind a clean, uninterrupted facade.
There are a lot of ways to mix and match so you won't end up with an office that looks like everyone else's.
In an ideal world, you want to feel good about going to your office/desk to get some work done. To get to that place, make it welcoming. Avoid visual chaos. Make it easy to put things away. If your workspace works, you will want to join it and work with it. If it takes 15 minutes just to find what you need, you'll likely do anything to avoid going near your desk.
Lastly, don't forget about the wires. The ubiquitous tangle can easily thwart any attempts at success at minimalism. Room & Board offers a few cord management solutions that work well with their desks as well as tables. All the wires sneakily run along the back and down the leg of the desk and into the outlets. How satisfying.
This post is sponsored by