How to Green Your Holiday Decor: 12 Sources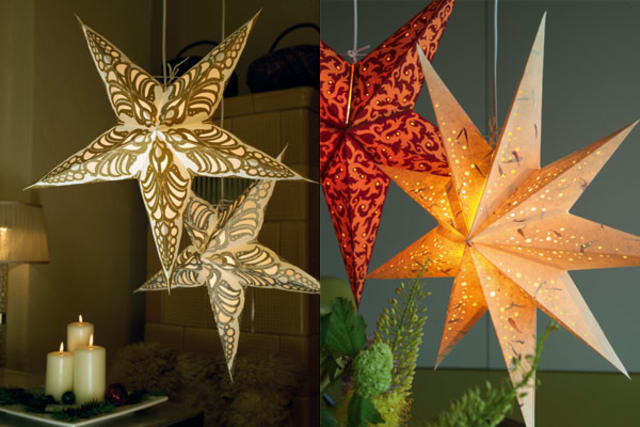 We've heard it before — the holidays create waste, they're excessive, and some of the traditions surrounding them are the polar opposite of green living. Still, many of us love celebrating those traditions every year, and there are ways to be mindful and responsible about holiday decor, whether you're making your own or you prefer to shop for seasonal supplies.
Long-Lasting Greenery
Neither cut trees or artificial ones are a good option if you really want to go green this Christmas. A better alternative is a potted tree (or a long-lasting herb or succulent wreath) that can avoid the landfill entirely by being reused.
Viva Terra
This online catalog store has a few different succulent wreaths that last through December and can then be disassembled and reused as house plants. (They also have several herb wreaths that can be reused.) This Echervia Wreath sells for $98.
Pristine Planet
An aggregator site, Pristine Planet pools together several green holiday products in one place where you can scan goods by category. We found some unusual wreaths, like this Bay Leaf Wreath ($39) which can be repurposed for cooking after the holidays are over.
Gardener's Supply Company
This online store is generally a good resource for eco-friendly products, and their holiday section won't disappoint. This tabletop Rosemary Plant ($40) is a useful, fragrant, and beautiful alternative to a cut tree.
Energy-Saving Lights
LED lights are more popular than ever, and they're easy to find now at big box stores. If you're looking for something in particular, however, here are some more comprehensive resources.
LED Rope Lights and More
This website has string lights and decorations in a broad range of colors and styles. Their inventory is divided into a few different sections: LED rope lights, string lights, festive lights, and cabinet and display lights.
1000Bulbs.com
This webshop has nearly every kind of bulb imaginable, including a good selection of energy-saving LED Christmas and holiday lights. These LED C9 Christmas Lights come in a bunch of colors and cost $5 per pack.
All Green Things
If you're looking for modern holiday decor, this online store is worth a visit. We love the Artecnica Starlightz ($27), which are made with fireproof chlorine-free bleached paper and non-toxic coatings. Cord sold separately.
Fair Trade & Handmade Holiday
If you're crafty, you might have big plans for a DIY handmade holiday, but for those who get stressed just thinking about craft projects, here are a few places to shop handmade.
Branch
San Francisco-based Branch has a really well edited collection of home decor, and their holiday line includes some nice modern finds, like this set of 3 Silver Stars ($15), a fair trade product handmade in Portugal from recycled milk cartons.
Etsy
The king of handmade holiday decor, Etsy has a TON of decorations — some incredibly beautiful and some cringe-inducing. This Recycled Aluminum Soda Can Ornament ($4) is a classic design made from recycled materials.
Ten Thousand Villages
This national store is "a nonprofit fair trade organization that markets handcrafted products made by artisans from more than 130 artisan groups in 38 countries." They have some unique holiday finds, like this Gold Star Garland from Bangladesh, $8.
Green Gift Wrap
Avoid some of the wastefulness associated with wrapped gifts by hunting down recycled paper, reusable gift wrap, and handmade cards.
Green Depot
This East Coast and Midwest store has a web shop and multiple locations, where they sell a variety of recycled, non-toxic, and reusable gift wrap. This Recycled Paper Gift Wrap comes in six patterns and starts at $6.
Renegade Handmade
Headquartered in Chicago, Renegade's brick-and-mortar and online shop are good places to shop for personal, hand-crafted gifts and holiday cards. This Holiday Birds Boxed Note Set by the Rifle Paper Company goes for $18.
Wazuki
Furoshiki — a traditional Japanese wrapping cloth — is a beautiful and reusable way to wrap gifts. Online store Wazuki has some gorgeous options, including this Amapolis Furoshiki, $15. (You can also substitute vintage scarves or fabrics for a similar effect.)
Photo: Artecnica Starlightz