How to Make Homemade Scented Candles (And Never Burn Store-Bought Again)
We
independently
select these products—if you buy from one of our links, we may earn a commission. All prices were accurate at the time of publishing.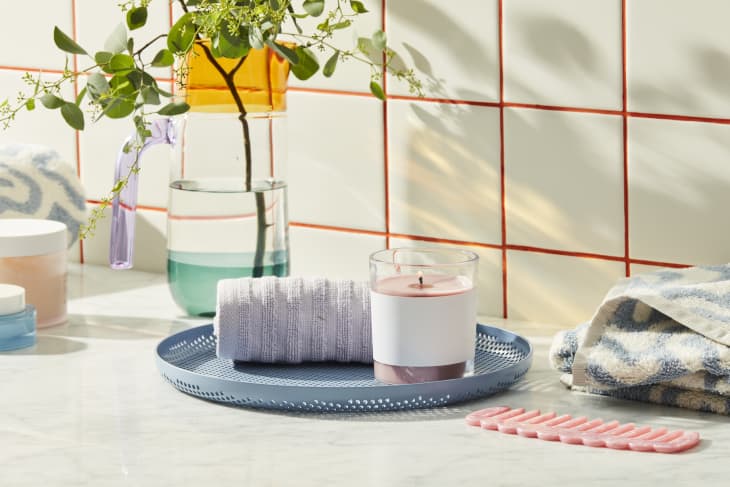 Scented candles are home decor heroes. Add one to a bathroom and it instantly feels like a spa; put one in a living room, and you can make it feel more inviting. Light one in a kitchen, and you can freshen up the space; add it to the dining table, and you can create instant ambiance. For an easy pick-me-up, scented candles are hard to beat.
And great news: Scented candles are actually pretty easy (and cheap!) to make. You can get all the materials online or at your local craft store, and you can order scents in large or small batches (my favorites are conifer-based scents like pine and spruce). The great thing about DIYing your own scented candles is that you can make something that's totally custom to your tastes, from the scent to the vessel. Eager to get started? Here's what you need to know about making your own scented candles at home.
Tips for Making Scented Candles
Make sure the container you use for mixing your wax isn't later used for food.
Temperature is key when melting wax and adding fragrance, so make sure to keep a close eye on it.
A dot of hot glue on the bottom of the wick holder before setting it in the bottom of your container will help it stay in place.
Covering your candles when not in use will help them preserve their scent.
How to Make Scented Candles
Heat-resistant pouring pitcher (I use a 4-pound aluminum one)
Old saucepan
Fragrance or essential oils (I use 1-ounce bottles I buy from Candle Science
Pencils or chopsticks (to hold wicks in place)
Melt 1 pound of soy wax in the pitcher over a double-boiler setup with the saucepan. Heat to 185 degrees Fahrenheit.
When the melted wax is at 185 degrees Fahrenheit, add 1 ounce of your fragrance of choice to the pitcher. Remove from heat and stir to combine.
As the wax cools, place the wicks inside the 8-ounce jars, centering as best you can. Secure in place using pencils or chopsticks placed over the opening of the jar.
When the wax has cooled to 135 degrees Fahrenheit, carefully pour it into the prepared jars.
Let the jars cool overnight. Before lighting your candles, trim the wicks to 1/4 inch.
Light and enjoy! Use these instructions to clean up any wax drips.