3 Ways to Raise Your Credit Score Fast
We independently select these products—if you buy from one of our links, we may earn a commission. All prices were accurate at the time of publishing.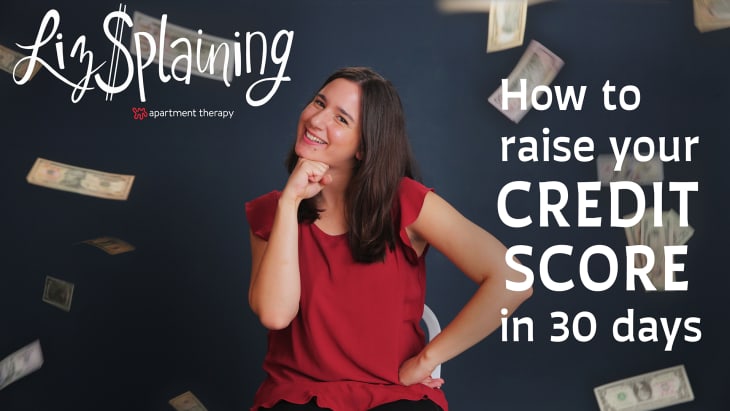 Maybe you're applying for an apartment or mortgage next month, or maybe you just started dating someone who wants you to have a credit score of 750 (crazier things have happened!). Either way, you're probably looking to raise your credit score—fast. But how do you do it in a responsible way? 
Follow Topics for more like this
Follow for more stories like this
I'm here to guide you. As host of Apartment Therapy's new video series "Liz$plaining," I'll answer your biggest money questions and have some fun along the way. Personal finance can be boring, but I assure you I am not. Today, we're starting with one of the most frequently asked questions: How do you raise your credit score, and do it fast?  
I'm not an expert, but I have a knack for reporting some of these dull concepts in ways that you can grasp quickly. Check out our video above for a comprehensive overview of how to raise your credit score in no time.
Now, let's manage our expectations: You're probably not going to grow your score from a 550 to an 800 in a month—that will take time diligently paying your bills and managing your credit. However, you might be able to tack on enough points to push you up into the next bracket if you understand what's keeping your score down. Now, here are some of my best tips: 
1. Get your credit report and check for errors
You can go to annualcreditreport.com to get your official credit report from each of the three credit bureaus once a year. You can also use a credit monitoring service like Credit Karma or one from your bank. Take a look and see if there's anything a little wonky, like a doctor's bill in collections you definitely paid. Your credit report will tell you how to get in contact with any outstanding account's servicer. If they end up removing an error, it'll likely boost your credit quickly!
2. Lower your credit utilization 
Let's say you have $10,000 in available credit to you across all your credit cards, but your balance is $6,000 when your bank reports to the bureau. Even if you pay it off in full every month, your credit utilization is still 60 percent—double the 30 percent of what experts say you should use. It's likely keeping your score down. 
If you can't pay it off quickly, call your bank to see if they can raise your credit line. This may help drive down your utilization and up your score. 
3. Keep old credit cards open
While you may think that closing an old credit card will help your credit, it actually does the opposite by lowering your length of open accounts. According to FICO, this accounts for 15 percent of your credit score. (This is why older people usually have better credit scores than those just starting out!) It also lowers your available credit, raising your utilization rate. By keeping your lines of credit open, you'll likely help raise your score by increasing the average account age.
All covered with those three tips? No worries, I've got more for you: Just watch the video above!
More great Real Estate reads: