How to (Really) Love Your Small Space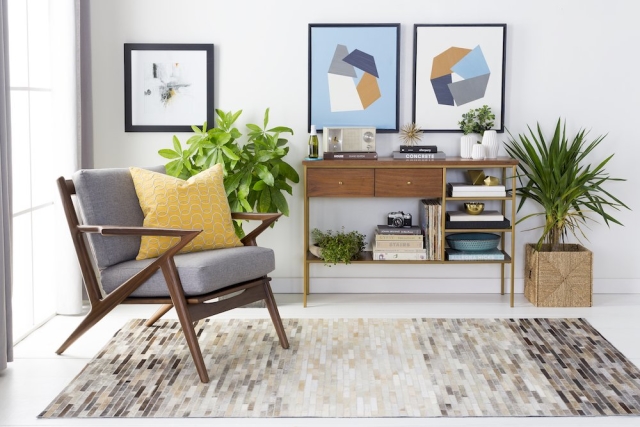 (Image credit: Joybird)
Outfitting a small space — that is, fitting all your books, records, furniture, clothes, kids' toys, kitchenware and your style, too — is equal parts Martha and MacGyver. But that doesn't mean you need to be a pro (or a minimalist) to excel at tiny living. Here are four tips for creating a chic and functional fun-sized space that you'll love living in.
Prep first, design later
With a smaller canvas, every corner is crucial, so start by subtracting. Decluttering, organizing, Kondo-ing — whatever you wanna call it, swipe left on all the stuff you know you don't need and free up space for new elements. Then, grab your tape measure. Precision is key when each inch counts — like the pros say, "measure twice, cut once" — so make a list of accurate measurements for shelves, furniture, and the like.
Furnish to scale
A huge, overstuffed sofa will lend a serious Alice in Wonderland vibe to an already-cramped living room — instead, opt for furniture designed for apartment living. Joybird has a killer apartment-sized collection of sofas, loveseats, tables, desks and more, all created with shrunken spaces in mind. Plus, with more than 100 fabric and leather options to choose from, there's still plenty of room for your style.
Give every place a purpose
A well-appointed small space is a masterpiece of multitasking: Your dining area can do double-duty as an office, and you can use room dividers to carve out nooks for visiting guests, rambunctious kids or, um, that basket of dirty laundry. (Hey, I'm getting to it.) Bottom line: Rethink your space to utilize every corner, and you'll feel like you doubled your square footage.
Find your style
You don't need to hire an interior designer to get personalized ideas and inspiration for your space: Unlock your design MO with Joybird's quiz, then check out Joybird's Ultimate Guide to Small Spaces. It's packed with all the tools you need to become your own interior designer, including tips, tricks and easy-to-follow tutorials that will turn designing and organizing your small space into a joy.
Check out Joybird's 'Ultimate Guide to Designing Small Spaces' here.