Yes, You Can Buy That Dream Piece of Furniture—Just Use This Game Plan
We independently select these products—if you buy from one of our links, we may earn a commission. All prices were accurate at the time of publishing.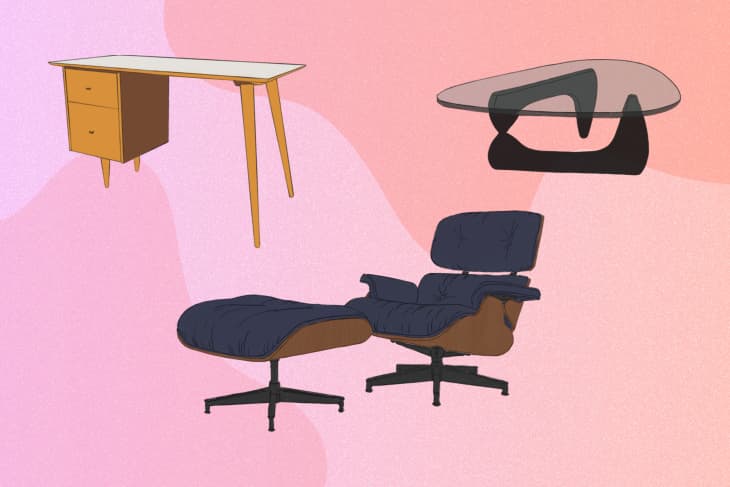 When it comes to picking out furniture or home decor, it can be easy to get hung up on "the one." The Eames lounge chair you've wanted for forever. That bold Ettore Sottsass mirror you spotted on Instagram and now can't imagine your living room without. The perfect and pricey bedframe, the ideal designer sectional couch in a luxe fabric, the cushy rug you spotted on a high-end blog. Sure, you could find a cheaper reproduction or, better yet, hope to score it secondhand, but if your tastes are singular, that can be like finding a needle in a haystack.
Follow Topics for more like this
Follow for more stories like this
But if the pièce de résistance that will make your whole room click is hundreds—or even thousands—of dollars over budget, you don't have to give up. It can be yours, even if your bank account might suggest otherwise. We spoke to experts to figure out a dream home item game plan, one that'll help you get a home glow-up in no time. 
Step 1: Make sure you've found "The One"
Love can be a fickle thing. It feels like every day there's a new golden child of design. So when it comes to a home splurge, it's important to be buying for the right reasons. Ask yourself: Are you chasing a trend or is the piece something you're sure you'll love years from now? Does the item feel true to your style DNA and aesthetic? 
There's a big difference between something you love looking at, say, on the feed of your favorite influencer and something you'd love living with. Take a moment to make that distinction for yourself. If you can picture living with a piece for five, 10, or even 15 years down the line, you're probably on the right track. In general, multifunction items, like tables, shelving units, and other case goods, often make for great home splurges because of their versatility. If you buy something now that you're certain you can reinvent later in a different room or decorative context, that's a piece with true lasting value. 
Another useful tool in determining if you've found the one? Moodboarding. "If you like something, pull together a quick moodboard to help yourself visualize it with other items in your space," says Julia Marcum, one half of the couple behind the decor blog, Chris Loves Julia. "There's not just one perfect piece of furniture out there—you're going to like a lot—and that can only confuse you more. If it fits in your budget and works well with other pieces in your space, what more could you want?"

There isn't just one path to your dream home splurge. If what you have your eye on is available through multiple retailers, spend time comparing pricing and keep an eye out for sales before choosing which place to shop. "A lot of people jump on a home splurge right away without planning for it, but this often results in debt because they pay with a credit card or finance a big ticket item like a new couch, which can cost you a lot in interest down the road," says money-saving expert Andrea Woroch. "It's really important to plan ahead, do your research, and review options for whatever item you want to buy and how much you need to save up." 
Services like Honey can be helpful, too. This Google Chrome extension can comb over 30,000 sites to help you find the best deals, promo codes, and savings opportunities, so you know that when you do buy, you're getting the most bang for your buck. It's also worth looking into cash-back promotions on sites like RetailMeNot and Rakuten. You can also set price alerts via Google and other savings apps. 
If the piece you have your eye on is vintage or bespoke, don't be afraid to do a little treasure hunting on sites like Chairish, 1stDibs, or Facebook Marketplace. You can often score items in pristine condition for major discounts on these platforms, particularly if the seller is open to negotiating. "I'm a big proponent of secondhand decor and used decor," says Kate Arends, founder of Wit & Delight, a design and lifestyle brand. "Not only does it make big purchase items like a rug or sofa more accessible and reasonable, but it also often leaves more of your budget behind for you to have further fun with." Always check to see if a seller is on multiple resale platforms, too. You may be able to avoid certain fees this way (like shipping costs), and sometimes sellers will try different pricing strategies depending on where they are listing items. Instagram is also a great resource for vintage shopping, so be sure to check for local vendors there as well.

Whether your budget is $500 or $5,000, you likely still have a budget. Knowing how to make your money work for you to get you to that end savings goal is half the battle. One of your first to-dos? Identify where you can cut back, says Woroch. "Review your monthly expenses, then ask yourself if there are any memberships or subscriptions that you don't really use," she says. Take inventory of things like streaming services, mobile plans, and even auto insurance to make sure you're utilizing the services you pay for and you're getting the best deal available. 
From there, Woroch suggests looking at your discretionary purchases (like any recurring monthly subscriptions that you don't actually use every month) to see what you'd be willing to skip even once or twice a week. "Every time you make your own coffee or wash your own car when you otherwise would have paid for it, put the money you would have spent into a savings account," suggests Woroch. 
Furthermore, make sure the dollars you are spending contribute to your bottom line. "Opting for a credit card that offers cash-back rewards can be a great strategy," explains Woroch. "If you don't already have one, check sites like CardRates.com—they offer detailed reviews and comparisons of the best cash-back reward cards, which can help you choose the right one based on your spending style, like a card that offers rewards for groceries or one that gives perks with gas and travel." Once you narrow in on the right option for you, you can view these rewards as just that—rewards! Put the money you reap with any perks into a savings account dedicated to your decor splurge. You'll be ready to cash in before you know it.  
The major lifestyle changes needed to save for a big purchase may be no fun in the short term, but Marcum suggests thinking of them as a means to an end. "It's all about what you value, and once you know that, the 'sacrifices' don't seem so daunting," she says. "I don't have designer purses or fancy clothes, but we love to pour love into our house. Everyone has something they prioritize, and, whether you realize it or not, you are inevitably sacrificing something else to afford that thing. That's the beauty of a budget—you get to pick where your money goes."
Step 4: Buy it—and enjoy it!
You've thought it over, you've saved up, and you've shopped smart. Now it's time to let yourself enjoy your purchase. Sink into that sofa, 'gram that new piece of artwork, spend all Sunday in your dream bed—and sleep well knowing you may have actually saved yourself money in the long run by splurging now. "I needed a really large rug when we first opened our studio back in 2016, and, although I really wanted a vintage piece, I was tempted to get a reproduction and save myself a bit of money," says Arends. "I kept hesitating and eventually realized it was important for me to just splurge on what spoke to me. Years later, that rug has had a life in so many different spaces of mine, and it really does make me happy to this day." For Arends—and possibly you—splurging on a well-considered dream item, instead skimping on a placeholder piece, can help you avoid the trap of repurchasing that cheaper item you settled for several times over. 
All that's left to do, other than enjoying your home splurge, is to look into maintaining and protecting it. Consider adding a rider onto your apartment, home, or car insurance to safeguard your piece for years to come. Finally, familiarize yourself with any care plans you should be following to maintain the structural integrity, functionality, and appearance of your item for years to come.