Staying In and Still Not Saving Money? Here Are 4 Tips from Finance Experts
We
independently
select these products—if you buy from one of our links, we may earn a commission. All prices were accurate at the time of publishing.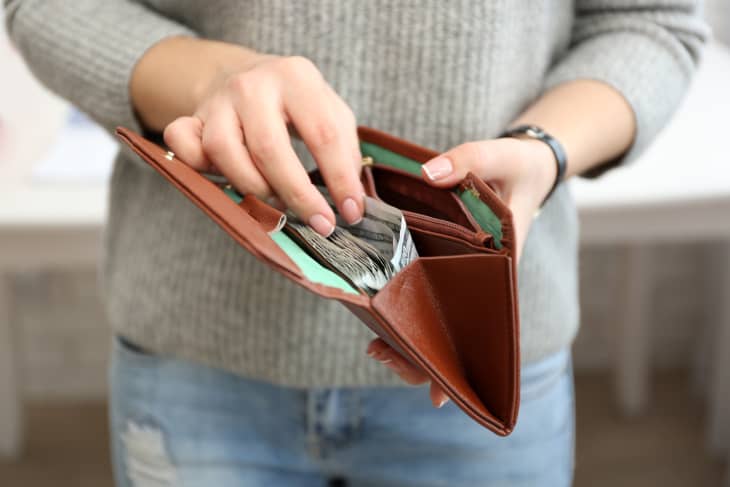 When you think of ways you could save some cash, you probably think about cutting back on eating at restaurants and reducing your spending on entertainment in the form of concert tickets, going to the movies, and drinks at the bar with friends. Although you might assume that you'd easily be able to save a ton of money this way, the coronavirus pandemic has shown many of us that it's not quite that simple.
Over the past several months, people around the world have found themselves without the option to spend in many of the ways they usually might due to stay-at-home orders put in place to help curb the spread of the virus.
You're no longer hitting up happy hour, and your nails show that you're beyond overdue for a manicure. Even still, your wallet does not feel any heavier. If you find yourself in this situation, you're not alone.
So, what gives? To get the scoop on what's causing us to continue to spend despite our limited options right now we spoke to some financial experts. Here's what they had to say about why you might not be saving at a rate you'd expect, and what you can do to make sure you come out the other side of this difficult time not completely in the red.
Likely one of the biggest reasons your finances aren't where you thought they'd be is because of job loss or reduction. The unemployment rate is still at a high, and if you've lost your job in the wake of the pandemic, you're undoubtedly feeling the financial strain in a big way. Even if you're still gainfully employed, took a pay cut, or you simply find yourself with more time on your hands due to a lack of a commute, it's worth considering finding new avenues of income. There are many so-called side hustles and gigs you can do from home. 
"There are plenty of people, such as first responders and healthcare workers, who are putting in extra hours right now and are in need of help caring for their pets," says consumer and money-saving expert Andrea Woroch. "You can earn money by petting sitting and dog walking through sites like Rover."
Step away from the online shopping cart
While you may not be able to mindlessly browse the aisles of Target for an afternoon like you did before, online shopping is an ever-present option. Retailers know you're probably stuck at home with time on your hands, and you're likely getting tons of promotional emails beckoning you to take advantage of sales and promotions. It's important to resist the temptation to shop out of boredom.
"The convenience of online shopping can definitely be a downfall," says Brittany Waters of Toronto-based Ready Set Life, a financial coaching company. "To stop those impulse buys, make it as inconvenient as possible. Delete your credit cards from online shopping sites; don't save your information in profiles."
When you have to get off the couch to grab your credit card, you might realize you don't need that item in your cart after all. 
Zachary Weiner, owner and CEO of Restaurant Accounting, suggests waiting 24 hours before making any online purchases. After you sleep on it, you may realize it's unnecessary, and the money you were about to spend is better off in your savings account.
Try making passive income
Because you're a lot more limited on where you can go these days, you may find that your car's just collecting dust in the garage. Some people still need access to a vehicle, though, and you can capitalize on that by renting yours out through a service like Turo.
Tristan Brown, a bankruptcy attorney and financial advisor with T.L. Brown Law points out that the money you can make through such a service can help offset the cost of your car payment that hasn't disappeared just because you're not driving as often.  
Living through a global pandemic has forced us to change our way of life. It can be difficult to adjust to the "new normal," and that goes for how you approach finances as well. 
To help cope with the massive changes, mortgage broker Jennifer Harder recommends embracing Stoicism, which encourages acceptance in the face of adversity. 
"Let's be frank—cutting costs won't be fun," she says. "In fact, it's going to hurt. Brushing up on Stoic philosophy will help you cope with that emotional pain. You'll learn how to be in control of your own happiness instead of trying to buy it on Amazon."
She suggests taking a gradual approach to cutting back on spending so you don't feel overwhelmed. For example, first, you might cut back on your online shopping orders. Once you're used to that, you might think about reducing your phone's data plan. Small changes add up over time.