6 Ways to Save on Your Heating Bill This Winter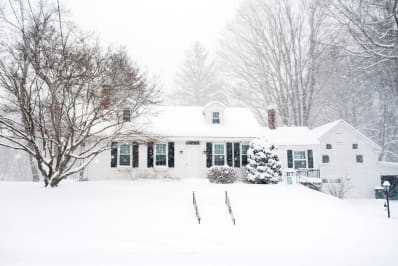 (Image credit: Léa Jones/Stocksy)
Whether you have an economical heat pump or a decades-old oil burner, you're probably looking for a way to cut your heating costs this winter (holiday gifts are so expensive!) The good news? It's totally easy to keep warm (and on budget) with these expert tips:
You can't manage what you don't measure
The first step to managing your energy spending is inspecting it, says Josh Prigge, founder of Sustridge, a sustainability consulting firm in Las Vegas, Nevada. For most people, that means checking your electric bill. For others, it might mean calculating how many gallons of oil you've used (we see you Northeasterners) or how much you've spent each month on ancillary heating items (i.e. pellets for a pellet stove or wood for your fireplace.) Once you know where your money is going, you can come up with realistic use goals and monitor your progress against them.
(Image credit: Javier Díez/Stocksy)
Knowing your home's perfect temperature
To save money on your energy bills, set your thermostat to 65 degrees Fahrenheit, suggests Matthias Alleckna, an energy industry analyst with Energy Rates in Canada. If that sounds a little too cold, Alleckna suggests putting on socks and sweaters before you tweak the thermostat—being prepared with layers may keep you from noticing a sudden drop in temperature.
And being a little chilly may seem like a fair trade for all you'll save—that for every degree you lower your thermostat, you'll save approximately two percent of your overall heating bill, according to Energy Upgrade California, a California statewide energy efficiency initiative.
Upgrade your technology
Affordable smart home devices can do wonders in reducing your overall energy use. A web-connected thermostat can be fiddled with from anywhere in the world, via your phone, which means you can lower your home's temperature after everyone has left for the day, says Steve Beeler, owner of RSC Heating and Air Conditioning.
And don't forget to look for the Energy Star symbol on every home item you upgrade, from appliances to light bulbs. These use lower amounts of energy in the long term, which can mean lower bills (and more money in your pocket.)
Dodge those drafts
"Drafts are the largest source of heating and cooling loss in the home," says Mark Tyrol, the owner of Battic Door, a Mansfield, Massachusetts-based home energy conservation product company. Since warm air can escape and cold air can enter through poorly insulated areas, keeping them untouched is essentially like leaving your windows open all winter long.
Consider purchasing a cover for your house fan, a draft blocker for your dryer vent, a plug for your fireplace, and a cover for your attic stairs, Tyrol says.
Of course, cracks around your windows and doors, and pipes that run through exterior walls can leak your precious warm air out, too. Enter weatherstripping and added insulation: It can be as cheap as a rolled-up towel under a drafty door or a $13 window insulator kit.
Hot tip: Once your windows are well-insulated, consider keeping the curtains open to let the sunlight in. The added heat from the sunshine may have a big impact in small rooms.
Don't forget to winterize
Hate to break it to you, but summer is over. Though it may seem like an added headache to swap out your storm windows and remove those air conditioning units (or covering them up if they're permanently installed), these small steps can save you some money, says Jordana Viuker Brennan, founder of Confident Buildings, a New York-based energy-use consultancy.
Perform routine maintenance
The biggest heating cost? That emergency repair session after your unit goes kaput. But, just like your grandma says, an ounce of prevention is worth a pound of cure.
"If you invest 80 percent of the service work into preventative service, you will only need 20 percent or less in emergency work," says Dave Miller, the owner of South Carolina-based Superior Heating & Air.
Prevent the big messes with these small tasks: Replace your air filters every season (Miller suggests replacing them once a month to prevent the build up of particles in your heating system), have an HVAC specialist calibrate your thermostat, and occasionally pour a cap of bleach down your AC unit's drain line to prevent algae and other deposits from building up.
And remember: These steps save more than just costs—they could save your life as well. Regular maintenance of fuel-burning appliances (like your furnace, water heater, and clothes dryer), can prevent fires and carbon monoxide build-up, says Larry Oglesby, director of Remington College's HVAC program. Take the time this winter to make sure everything is property vented, so you can rest assured as you cozy up.
Apartment Therapy supports our readers with carefully chosen product recommendations to improve life at home. You support us through our independently chosen links, many of which earn us a commission.