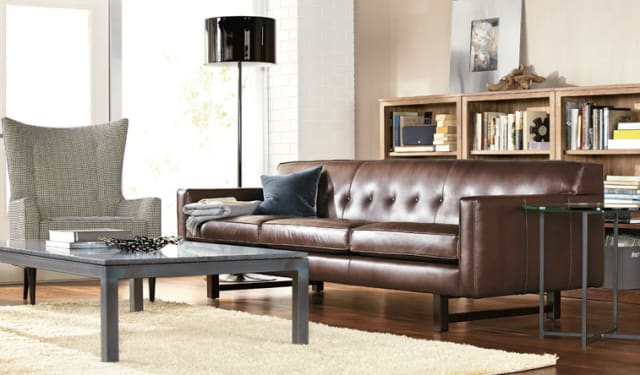 Sofas are expensive, and it can be scary to shovel out so much money for something that may not look so great three years down the road. To help you find a sofa that will last, here's our guide to shopping for quality frames, springs, and upholstery, as well as where to look when you're on a budget.
What's in a Frame?
In general, kiln-dried hardwood frames are viewed as the best because kiln drying removes moisture from the wood and stabilizes the frame. Look for mortise and tenon or dowel joints rather than staples. Other types of hardwoods are generally good, but soft woods like pine can crack and warp. Plastic and particleboard make weak sofa frames, but modern steel bases can be well made and good looking, depending on how well they're welded. A quality frame should also come with a good warranty that guarantees its life over several years.
Cisco Brothers
This LA-based sustainable furniture company makes beautiful and pricey sofas with FSC-certified hardwood frames and 8-way hand-tied coils. Their frames and upholstery are warrantied (under normal use and conditions) for as long as the sofa is covered in its original upholstery. (Shown left is the Tulane Sofa.)
Cushions and Springs
Hand-tied coils are traditionally viewed as the best, since they're strong and they distribute weight well over time, keeping cushions in good-looking shape. However, there's some debate over whether hand-tied coils are really better than less expensive zig zag or serpentine springs, which are also common in sofas of good quality. When you're testing a sofa, avoid seats that squeak, creak, or sag.
Mitchell Gold + Bob Williams
Their sofas can be expensive, but they're well made with hardwood frames, double-doweled joints, and 8-gauge steel serpentine springs. According to their sofa construction guide, testing showed serpentine springs to be better than hand-tied coils for their designs.
Upholstery and Fabrics
Since a sofa has to last a long time, look for fabrics that wear well. Leather is expensive but ages nicely. Many people like the stain resistance of microfiber, but the drawback is that it's synthetic and doesn't have the same look or feel of a natural material like linen or cotton. Tighter weaves tend to be more durable than loose weaves. Check the upholstery cleaning codes before you buy to see what kind of care the fabric will require.
Room & Board
Their sofas are made in the US and they have a range of affordable and more expensive options. You can work with a sales associate to customize your upholstery — they have an inventory of over 200 fabrics. Shown left is the modern classic Goetz Sofa ($5,800). with a hardwood frame, steel base, and leather upholstery.
Buying on a Budget
It can be difficult to find sofas of good quality and durability under $1,000. Thrift store sofas can be tempting ("That will look great if I just reupholster it!") but a good reupholstery job can sometimes cost as much or more than a new sofa. Smaller scale sofas tend to be less expensive, and you can often find great deals at floor model and overstock sales.
CB2
CB2 and its sister store, Crate and Barrel, sell sofas under $1,000 that have kiln-dried hardwood frames. The upholstery and springs may not be as high-end as the sofas listed above, but for the price, these are pieces of good quality. Shown left is the Parlour Sofa for $999.
RESOURCES AND LINKS
• Sofa Stores on Marketplace
• How to Shop for a Sleeper Sofa from Apartment Therapy Marketplace
• The Truth About Green Upholstery from Re-Nest
• All About Fabric from Re-Nest
• Finding a Good Upholstery Atelier from Re-Nest
• How to Shop for a Sofa from the Seattle Times
• Tips on Buying a Good Sofa from Good Housekeeping
• Choosing Sofa Upholstery from About.com
• How to Read Upholstery Cleaning Codes from Apartment Therapy
• How to Collect Quality Furniture When You Don't Have Much Money

Photo: Andre Leather Sofa from Room & Board
Apartment Therapy supports our readers with carefully chosen product recommendations to improve life at home. You support us through our independently chosen links, many of which earn us a commission.