How to Shop for an Induction Cooktop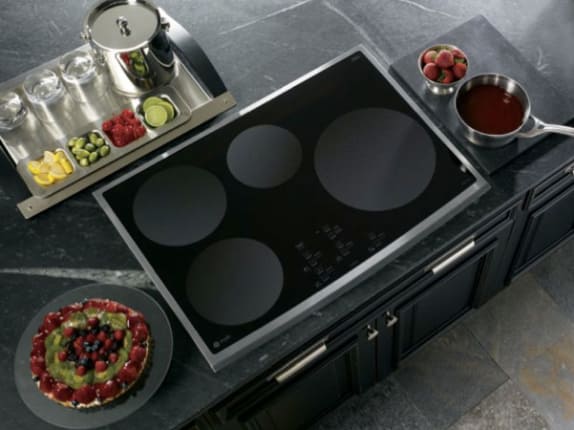 Recently, Consumer Reports started reviewing induction cooktops alongside electric and gas ranges, while IKEA released their first US model. Welcome to America, induction cooking. Historically, the biggest barriers to buying an induction cooktop were price and accessibility, but as this style of cooking gains momentum, more affordable cooktops are appearing at Home Depot, Lowe's, Sears, and the kinds of stores where most Americans shop for appliances.
How Does it Work?
Unlike gas and electric cooktops, induction cooktops create heat in the cooking vessel itself, rather than within the burners. They're only compatible with cookware that's conductive, responsive to magnets, and has iron content in its base.
Inside an Induction Cooktop
Copper wires beneath a glass/ceramic cooktop send electromagnetic currents into the cooking vessel, causing its molecules to vibrate rapidly, which creates the heat in the pan. (Photo: Wikimedia Commons)
What are the Pros?
Induction cooktops heat a vessel quickly and evenly, they're energy efficient, and they're easy to clean. Because the cooktop doesn't heat up like a gas or electric range, it's safer than a standard cooking surface. The cooktops are flat and smooth, and they fit in well with the aesthetic of a contemporary kitchen.
Precision Cooking
Induction cooktops have fine-tuned sensors that can monitor heat levels within the vessel — for instance, you can set the controls to keep a pot at a low, even boil for a specific amount of time. (Photo: Siemens TouchSlider)
What are the Cons?
Price is the biggest obstacle for many people, although more affordable models are making their way onto the market (see list below). Some types of cookware — like non-magnetic stainless steel — won't work on an induction surface. (Manufacturers generally recommend testing to see if a magnet sticks to the bottom of the pan. If so, it should work on an induction cooktop.)
The Learning Curve
Since induction cooktops weren't popular in the US until the last few years, it can be difficult to find an installer that's familiar with them. The digital controls also take time to get used to. (Photo: Joelle Alcaidinho | Unplggd)
Where to Start Comparison Shopping?
Induction cooktops are pricier on average than electric and gas ranges, although more affordable options have been appearing on the market in the last couple of years. Here are a range of options and prices.
Sears
Proof that induction cooktops have entered the mainstream US market — they're available at Sear's. The appliance department carries models ranging between $1,200 to $3,000 from Bosch, Whirlpool, Kenmoore, Electrolux, and GE — this is the GE 30" PHP900, $1,425.
IKEA
They started selling induction cooktops this year and launched the product line with the Nutid, a 4-zone cooktop that comes in just below the $1k mark at $999. Unlike many IKEA products, this one is available for sale online.
HomeClick.com
This discount shopping site carries several big brands: Bosch, GE, Dacor, Kuppersbusch, and Summit. This Summit Single Zone Induction Cooktop (which starts at $384) might be good if you have a narrow space or a small budget.
A. J. Madison
There are several countertop single-burner models on the market that are good to try out if you want to get a feel for induction cooking before investing in a multi-zone model. This Avant 12" Portable Induction Cooktop sells for $142 at New York-based AJ Madison.
Abt Electronics and Appliances
This Chicago-based store stocks a pretty large inventory, and their customer support line is available if you have questions about different models. This is the Bosch 30" NIT8065UC 800 series, $2,385.
PC Richard & Son
Based in the New York area, this store carries some higher-end lines, like this Viking Induction Cooktop (price on request). They also offer professional installation — a nice perk, since finding a good induction cooktop installer can be a chore.
Home Depot
They're a huge home & garden resource for a lot of people, and they carry a few different options ranging from portable cooktops for less than $200 to multi-zone models over $2,000. This is the LG Electronics 30 In. Induction Cooktop, $2,000.
Lowe's
Like Home Depot, they're a megastore with several options and brands, including GE, Bosch, and Electrolux. Prices go between $1,200 and $3,000. They also carry cooktops by KitchenAid — this 30-Inch Cooktop sells at Lowe's for $2,300.
Amazon.com
This online resource stocks a bunch of portable cooktops, as well as some full built-ins. They're also a good place to check for price comparisons when you've zeroed in on what you want. This Summit SINC430220 30in Induction Cooktop is currently priced at $1,000.
Overstock.com
They have a few discounted portable induction cooktops, like this Fagor Countertop Induction Burner, $86. They post quite a few customer reviews, so they're a good site to check when you're looking for personal stories.
RESOURCES AND MORE INFORMATION
• Good Question: What is Induction Cooking? | The Kitchn
• New from IKEA in 2011: The $999 Induction Cooktop | The Kitchn
• Survey: Do You Cook with Induction? | The Kitchn
• How Induction Cooktops Can Turn Your Kitchen Green | Unplggd
• New Induction Cooktops from Miele | Unplggd
• 7 Sexy Cooktops | Unplggd
• Cooking with Magnets: An Intro to Induction | Gizmodo
• An Introduction to Induction Cooking | Consumer Reports
• Induction Cooker | Wikipedia

Main Photo: GE Profile Stainless Steel 30" Electric Induction Cooktop PHP900 at Sear's
Apartment Therapy supports our readers with carefully chosen product recommendations to improve life at home. You support us through our independently chosen links, many of which earn us a commission.