How to Shop for Green Tile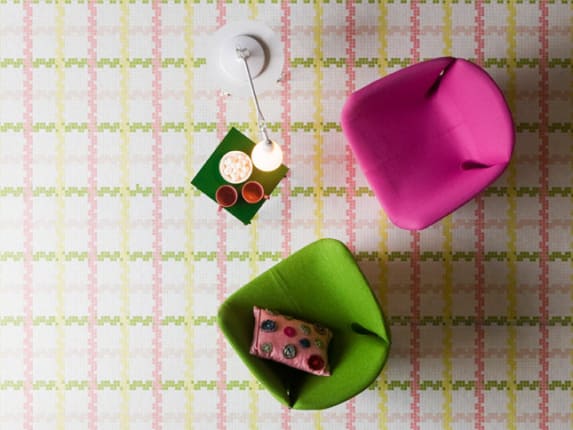 In and of itself, tile is a pretty green material — it's durable, hard-wearing, and it naturally insulates. Like almost any product, however, tile is available in various shades of green and there's a fair amount of greenwashing that goes on in the industry. Here are our tips for finding the best options.
Recycled Glass Tile
According to the US Green Building Council's Green Home Guide, recycled glass tiles are "environmentally preferable to ceramic because they can have 100 percent recycled content" and the glass recycling process consumes less energy than mining clay and firing new ceramic tiles. The drawback is that glass is slightly more prone to scratching. In general, the higher the recycled content and the more post-consumer content used, the better.
Trend Group USA
This international company uses 60-70 percent post consumer recycled glass (the rest of the composition being raw materials such as oxides required for melting and refining glass). The glass used is sourced completely from external glass recycling facilities.
Hakatai Glass Tile
This company specializes in glass, and their green tiles have between 30 and 70 percent recycled content. Of that content, many lines use approximately 90 percent post-consumer, 10 percent pre-consumer materials.
Ceramic and Porcelain Tile
It's durable, low-maintenance, and made from clay, a natural material. The firing process, however, does consume a lot of energy. Porcelain is fired at a higher temperature than ceramic, making it more durable and more scratch-resistant. For the greenest ceramic or porcelain options, try local manufacturers that use natural, lead-free glazes.
Heath Ceramics
This company's ceramic tile is hand-glazed in California, and has really rich color and variation. Prices are on the higher end, due to the time-consuming production process. They sell premade and custom collections, many of them made with recycled content.
Natural Stone
Natural stone — like slate, granite, and marble — is heavy, durable, and very low-maintenance. It also requires lots of energy to mine and ship. If you're interested in choosing the greenest natural stone, look for locally mined or salvaged stone. The USGBC notes that slate, unless salvaged, is "not a preferred environmental choice for residents of the western U.S." since there are few local sources in the region.
Salvage Shops
Marble and flagstone flooring are common finds in salvage shops. In addition to the benefit of cutting down on environmental impact, you can save money by buying used. For our guide to the best salvage shops, coast to coast, click here.
(Also of note: All stone contains traces of radon, a naturally occurring radioactive gas. The EPA, as quoted by the USGBC, says that most off-gassing levels are "generally very small compared to typical background levels," although they recommend having a product tested for emissions if you have cause for concern.)

RELATED RESOURCES
• How to Shop for Tile from Apartment Therapy
• Shops that carry green materials on Marketplace
• US Green Building Council Buyer's Guide to Eco & Stone Tile
• Green Stone and Tile Recommendations from the USGBC
Photo: Trend Mosaic Tile