How to Shop for the Well-Traveled Look Online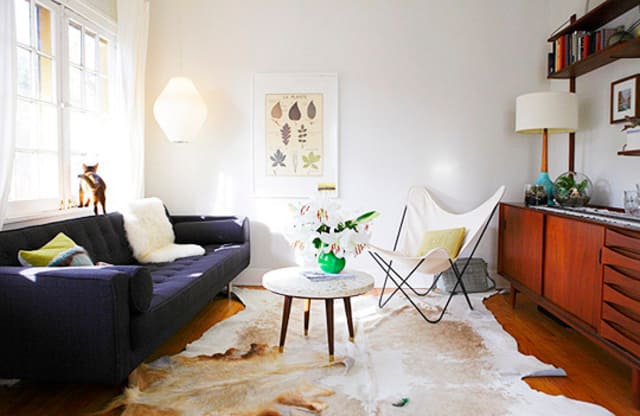 Want your home to look like it's been meticulously curated by a world traveler, but you're not going overseas anytime soon? No problem. The Internet brings faraway things very near, including furniture and decor. Here are our tips and sources to help you amass a collection of global finds within a few clicks.
Layer with Vintage Textiles
Canvas
Owned by Ochre founder Andrew Corrie and his partner, Canvas is a more affordable, yet no less beautiful line of sustainable, fair trade products. Their textile collection includes quilts, blankets, towels, and table linens from Africa and South America. Shown: Burkina Faso Tie-Dye Throws, $118.
The Loaded Trunk
Founded by global shopper Roni Jaco, the Loaded Trunk is an online source for textiles, artwork, and housewares. There's a really nice selection of Suzanis, Mexican bedspreads, and Herki rugs from Turkey (shown left, starting at $1,000).
Seek Out Specialty Shops Online
Tortoise
Husband and wife team Keiko and Taku Shinomoto run this Los Angeles store, which specializes in Japanese imports. Shop here for kettles, bowls, cookware, and Tenugi cloth. Shown: Yanagi Birch Handle Cutlery, starting at $25.
Bali West Imports
Based in Austin, Texas, this is a family-owned and operated business that works in partnership with local artisans — including internationally known brand Jenggala Keramik — to sell ceramics and tabletop to the American market. Shown: Nesting Bowl, $19.50.
Shop for Furniture with Free Shipping
Circa50.com
If you want to throw a little bit of European Mid-Century Modern furniture in with your eclectic-global-aesthetic, Circa50 ships for free. They also offer an enourmous range of upholstery options including Herman Miller, Kvadrat, Maharam and Knoll textiles.
Nova 68
This online store is dedicated to bringing the best of European design to the States, and they offer free shipping on everything. Their inventory mixes modern classics with harder-to-find imports. Shown: Boge Mogensen Hunting Chair, imported from Denmark, $4,250.
Accessorize with Imports
Lost and Found
Former stylist Jamie Rosenthal runs this shop out of Los Angeles. A world traveler, Rosenthal sells striped towels from Tunisia, Irish linen napkins, Liberty of London fabrics, and hand-blown glassware from Mexico. Shown: Light Green Tagine, $45.
Etsy
Over just five years, Etsy has managed to become one of the largest online retailers of affordable vintage goods, with hundreds of thousands of international sellers. You can find vintage and new products from nearly any country. Shown: Vintage Uzbek Suzani Pillowcase, $41.
Mix and Match Freely
Diseño | Bos, Latin Inspired Interiors
Located in Boston's South End neighborhood, this shop carries a blend of vintage and flea market finds alongside imports from South American countries like Brazil, Argentina, Peru, and Chile. Shown: Vintage Textiles, $300 each.
P.O.S.H.
Headquartered in Chicago, this store stocks French linens, tea towels, and tablecloths in a bunch of classic patterns and styles. They also carry a rotating selection of vintage flea market finds. Shown: Vintage Royal Doulton Demi-Tasse Cup and Saucer, $30.
Photo: Laure Joliet's Butterfly Chairs, Purchased at Circa50.com