How to Shop for Window Insulation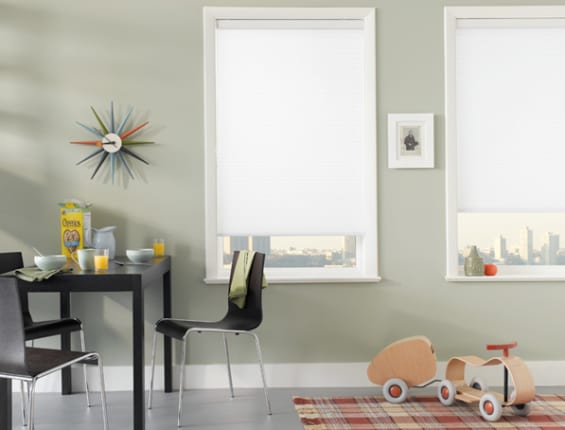 When you live in a city with cold winters, your lovely old Victorian apartment can quickly turn into drafty icebox. If you're a renter — or you own but replacing your windows just isn't in the budget this year — you've got to find creative ways to deal with drafts. To get you started, here are some tips for shopping for weather strips, window film, curtains, and more.
Rubber Weather Sealing
Self-stick weather strip tape can be purchased at your local hardware store or through a big box home improvement store. It can be made of rubber, felt, or foam, but I prefer the rubber since it's most durable, while felt is susceptible to moisture and foam degrades pretty quickly. (Tip: lay down painters tape beneath the self-stick tape to avoid damaging window frames or leaving sticky residue.)
Home Depot
White weather stripping is the least noticable option for windows with white frames. This Thermwell White Rubber Weather Strip Tape sells at Home Depot for $8.37. (They also have a bunch of other options for windows including insulation film kits.)
Window Insulation Film
These are another inexpensive option (most kits sell for less than $20) available at most hardware stores. I've found these shrink-wrap kits more effective than weather strips alone. The problem is that they alter the appearance of your windows, giving them a cloudy, plasticy look.
Ace Hardware
The kits generally provide self-stick tape and window film, which you apply to the windows, then heat with a hair dryer to seal the edges and remove any wrinkles. This Indoor Window Insulation Kit sells at Ace Hardware for $9.99.
Cellular Shades
These look much nicer than weather stripping and window film, but they're also much more expensive. They work by trapping hot and cold air between the shade cells, but they're not necessarily more effective than window film.
The Shade Store
This store offers good one-on-one customer service, but their prices are a little higher than average. They also have a wide range of options — their Cellular Shades are available in nine colors and a range of custom sizes.
Curtains and Drapes
Heavy drapes are the most traditional form of insulation — they can warm up a home literally and aesthetically, but they can also be expensive. (Tip: save money by making your own curtains or layering a couple of inexpensive curtain panels over your windows.)
Restoration Hardware
Many companies sell "insulating drapes," but I've found that heavy fabrics like velvet are just as effective and usually more attractive. Restoration Hardware has a nice collection of "vintage" velvet drapery starting at $149.
Draft Snakes
Draft snakes are tubes of fabric filled with synthetic stuffing or a natural insulating ingredient like dry rice. They're used on window sills or under gaps in doors to keep air from leaking in or out. They're inexpensive and helpful for blocking leaky gaps, but they don't insulate the glass or frame of a window like these other options do.
Etsy
There are some mail-order and online catalog companies that sell draft snakes, but they're usually not very pretty. I've found the best ones on Etsy, where individual craftspeople make and sell them in a variety of fabrics. This one is $18 from Virginia Beach-based seller BrumbysYarns.
Updated by Mat Sanders on 11.23.11
RELATED RESOURCES
• 5 Ways to Insulate Your Windows for Winter

Photo: Cellular Shades at the Shade Store