4 Fun Ways to Zhuzh Up a '50s Pink Bathroom, According to Home Stagers
We independently select these products—if you buy from one of our links, we may earn a commission. All prices were accurate at the time of publishing.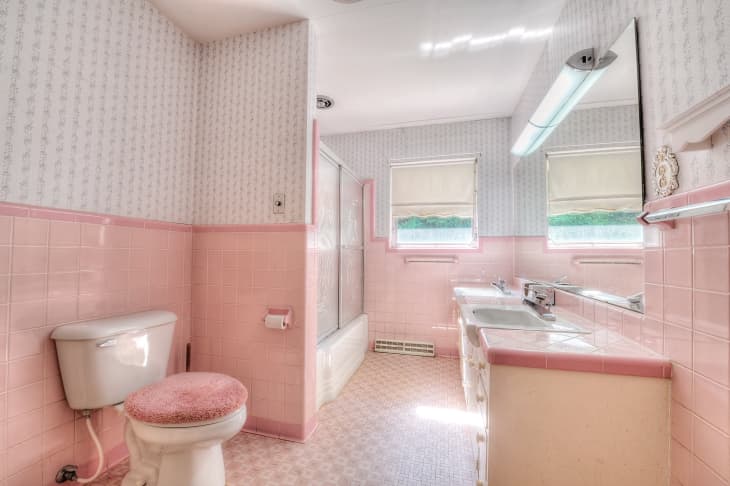 Some things need to be protected at all costs: endangered species, Dame Maggie Smith, and the Doomsday Seed Vault, to name a few. Something else worth preserving? Time capsule houses. I love walking into a home and experiencing that surreal feeling of being transported back in time. And apparently, I'm not alone! 
I can't count how many times I've watched my favorite home renovation show hosts squeal with delight and relief at the revelation of an original hardwood floor during carpet demolition. And it's not unusual for a little spirited debate to pop up in Apartment Therapy's comment sections when an older home is renovated to make way for more modern pieces. Some retro features just deserve to be preserved. One staple of '50s homes in particular has developed a devoted following is the pink-tiled mid-century bathroom.
Follow Topics for more like this
Follow for more stories like this
While I'm among the followers of the Cult of Pink Tile, I know not every house hunter is thrilled to move in and confront the decor demands of such a distinct bathroom. When a renovation isn't in your budget, sometimes you just have to roll with it. On the other hand, folks who are tickled pink by their mid-century tiles might need help approaching design. I spoke with some expert home stagers who shared the four keys to zhuzhing up a pink tiled bathroom. 
If you're on the fence about your pink tiled bathroom, home stagers want you to pick a side — the pink side. Amanda Lewis, Owner and Lead Stylist of Denver-based The Den Rentals, shares, "My biggest piece of advice when you are lucky enough to have a pink, mint, or blue tiled original bathroom is lean in." And leaning in doesn't mean you have to lean all the way back into the 1950s. You can embrace the statement as one fantastic element of a cohesive bathroom.
Lewis continues, "In today's world we are often too quick to demolish things we deem 'old' versus taking a step back and seeing how we can bring new life to something. Our business is built on mixing vintage and new and our styling approach is no different." Help bring that old gal back to life! 
Contemporary bathrooms aren't just for hand-washing anymore. We want our bathrooms to exude spa-like tranquility. Bright pink bathrooms could strike some as incompatible with this vision, but experts share that there are ways to get pampered in pink. Krisztina Bell, founder of No Vacancy Home Staging in Atlanta, recommends incorporating signature spa pieces. 
"Adding some black decor or black and white art or a black ladder with white towels hanging from it will ground all the pink color scheme and keep things looking classic and clean and simple, which is what bathrooms should be — more calming and spa-like," Bell says. Fluffy all-white towels, big cozy white robes, and plush bath rugs tone down the vibrance. 
You know how sprinkling a little sea salt in your chocolate milk makes the sweetness stand out? That's what hardware can do for these retro bathrooms. Take it from Silicon Valley-based Ty Karges, professional home stager, interior designer, and owner of Ty Karges Home, who shares that sprinkling in some pieces that coordinate with hardware can tastefully punch up the flavor.
"It's usually going to be either brass or black in these retro bathrooms, so if it's brass, add some brass elements," Karges says. "If you have black hardware, add some black elements in there, whether it's a vase or something to make that pop a little bit." In addition to vases, coordinating picture frames, soap dispensers or dishes, or trays can highlight the hardware. 
Bringing in colors other than pink can solidify the space, whether staging to sell or designing for daily life. Florida-based Monica Collins, home stager, home organization expert, and owner of Snapshot Staging, says it best: "You don't want to fight the pink." 
For selling, Collins recommends you "use neutral accent colors (black, white, gray, charcoal, light tan, or brown, and I personally love navy with pink) to neutralize and appeal to the unknown buyer. You want it to look intentional." 
Depending on the home's location, sellers and owners alike can take the pink and run with it. "If the home happens to be in a more younger community or artsy area of town, you can enhance the vintage look that pink tile brings in a bathroom and choose to hang some fun art that has bold colors in it like turquoise for a more retro look," Bell says.
Collins shares that choosing pops of color doesn't just neutralize the pink, but it creates an entirely new and personalized look. "Have fun with it and embrace the pink," Collins says. "Use pops of color… so it actually becomes part of the color scheme in the room."
Just because you didn't choose your home's pink tile back in the '50s doesn't mean you can't choose it for yourself today. Enjoy creating a home that'll charm your Pantones off!