How to Update Knights of the Round Table Chairs?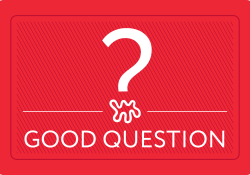 Q: We bought a secondhand table for our dining room. It's solid wood and in beautiful condition, but the seller would only give it to us on condition that we also buy the chairs with it. They're solid wood, too, but they look a little too much like "Knights of the Round Table" to me — especially with the wrought iron work in the backs. I also do not like the general shape of the tops of the chair backs...
I would never have chosen chairs like these, but now that we have a set of 8 of them, I'd like to try to keep and use them if we can. Does anyone have any ideas how to make them look a little more modern and inviting? We are on a tight budget and are not particularly handy. I would consider painting them (what color(s)?) or part of them (which parts?), and am definitely open to other ideas — but I don't even know where to begin. Thank you! -Sent by Heather
Editor: Making do with random chairs is the story of my adult life! How can Heather take her chairs from medieval to modern without spending an insane amount of time or money?
• Have a question for our community? Send us yours with a photo or two attached (questions with photos get answered first).
(Images: Heather)