How To Work With Warm & Cool Colors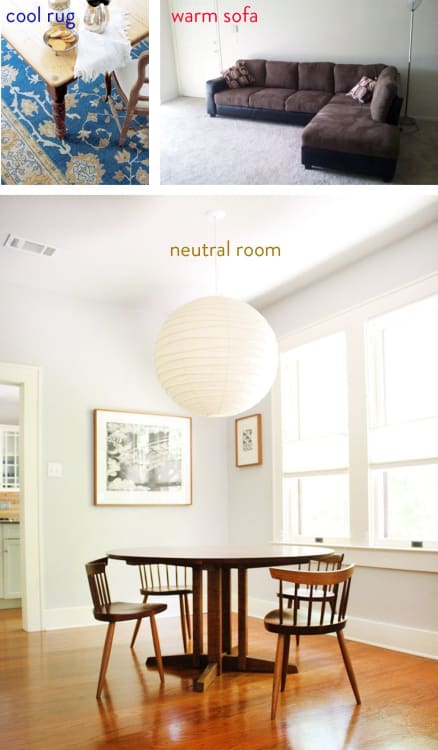 In the past I've talked about warm and cool people. This is different.
Mike bought two beautiful brown modern couches and then a soft blue rug to go in front of them. Something wasn't right in his living room, but he didn't know what it was. Laura wanted to paint her kitchen green, and ended up doing it three times, but was still not happy. Sarah wanted to be safe, so she went with a lot of neutrals in her apartment. Then she wished it all had more color, but didn't feel comfortable deciding where to put the color. She didn't want to screw it up.
Sound familiar?
Join the Color Cure! Episode One, with Maxwell:
Color is powerful. It is stimulating, healing, soothing and fun. It is also a big commitment. With the money that you spend on your average living room, buying an armchair in a colorful fabric can be downright terrifying. If it doesn't work, you are up the creek. That is why most people just follow the sheep towards beige and stay there forever. Not that there is anything wrong with beige! It is a fine neutral color; it just shouldn't ever rule your home...
In order to make good choices with color you only need to know a few things. Here they are:
1. There Are Warm and Cool Colors
The interior palette is roughly divided between these two groups of color and they are pretty self explanatory. Reds, yellows, oranges and beige or creamy colors are WARM. Blues, greens and grays are COOL. If you look at the color wheel (which you may remember from elementary school ) the warm colors are on one side of the wheel and the cools on the other. Where they meet, they mix forming some hybrids. Green and Purple are the hybrids, and they can be warmer or cooler depending on their mix. For example a lime green has a lot of yellow in it and is warm, whereas a Kelly green has more blue in it and runs cool.
2. Warm Colors are Stimulating
The reds, oranges, yellows and all the off whites that tend to this direction possess all the qualities of warmth in that they are hot, stimulating and soothing to our EMOTIONS, which crave warmth. This is the reason red is the most successful color in our consumer society and found in such icon products as Coca-Cola, Ferrari, and red lipstick.
Warm colors therefore work really well in the social rooms of your house, such as the living room, dining room and kitchen. They are also ideal for restaurants and bars, where socializing, eating and drinking are paramount.


3. Cool Colors are Calming
The blue side of the spectrum along with cool browns and grays and the cool off whites possess all of the qualities of coolness in that they are calming, focusing and soothing to our INTELLECT, which craves a cooler atmosphere. These colors quiet the emotions and sharpen our thoughts, allowing our mind to do its best work.
This is why the cool blues are the most popular color for business suits and shirts, as well as police uniforms; why the old time bank teller wore a green visor and banks are often cool inside, and why the Yankees are considered gentlemen in their blue pinstripes, whereas the Red Sox are savages (and why this match up is such a classic).
Cool colors are therefore best in private rooms where concentration, calmness and rest are most important, such as the bedroom, office, and nursery.
(*A note on bedrooms: many people object to the bedroom being considered a "calm" room when romance is often the goal. Never fear, while you are free to paint your bedroom red or other strong warm colors, you will probably find you don't sleep as well. AND if you go with a cooler palette, you'll find you DO sleep well and you can still spice up the bedroom with colorful accessories when the time is right.)
4. A Short Note on Black and White
Thought both black and white do not count as proper colors (black is all colors and white is the absence of color), they do have warm and cool properties, which are sometimes surprising to people, but are very important to know when using them:
White is cool.
Black is warm.
Therefore, remember that when you paint a room straight white, it is going to tend to be cold, and will need a lot of color or other warm elements to make it physically comfortable, whereas black is instantly warm and needs to be used sparingly so that it doesn't overwhelm. A little black will go a long way.


5. A Short Note on Neutral Colors
Neutral colors are like mutts; they are mixes where no strong color is evident. Since all colors tend to make brown, neutrals cover a dizzyingly vast landscape of browns that run from the warm, red brown of milk chocolate, to the cooler taupes and stone colors, to the light beige off whites. Neutrals are rarely exciting in their own right, but they become very exciting and sophisticated with put together with one another and with a starring color in their midst. I recommend getting to love the wide array of neutral colors and using them liberally as a base for any room.


6. Putting Color to Use - Be Consistent To Start With!
Keeping all of this in mind, you should get started by deciding in advance what kind of an effect you want in the room, and whether it is going to be predominantly warm (social) or cool (private). Build a palette that works with one color set and then stick to your guns. If you do, you will find you avoid most of the pitfalls that beset jarring color combinations.
So, remember Mike and Laura from the first paragraph? With what you now know, don't paint your kitchen green (cool) when you have a terracotta floor (warm) and gold finish hardware (warm) and don't put down a blue carpet (cool) in your living room if you have brown couches and off white walls (warm).
In short, don't mix warm and cool palettes unless you want your room to be purposefully funky or off beat.
7. The 80/20 Rule
Final lesson: use strong color sparingly to punctuate the room, not define it. I recommend 80% neutral colors and 20% strong colors. Just like a woman's face is made up with bright lipstick in a small portion of her face and neutral colors in the rest, so should a room be balanced.
For example, in a warm living room such as Mike's, I would recommend off white walls (warm/neutral) to go with his rich, brown couches (warm/neutral) and then a deep red rug (warm/color) and colorful table lamps in either black, silver or reds to wake up the room. Small batches of color have a tremendous effect on the whole and will "wake up" and bring out the more neutral colors around them.
For example, take a look at this print ad for Ralph Lauren above. It is a beautiful example of how he has used the color in the thick red stripe to bring to life the dark neutral clothing on the models behind it. The red color brings out the warmth of these clothes. Without the swoosh of red, this picture would not speak as strongly as it does. Just this little bit catches your eye.
With an 80/20 approach, color is the focus of every room and the star of your show without any other stars jostling for attention. An accent wall or a few well placed pillows, lamps, rugs, flowers, curtains or single chairs with color on them is all a room needs. The rest should be filled with supporting members of the cast: whites and neutrals.
Go Do It!
Now you know how to solve Mike's rug problem, why Laura had trouble painting her kitchen green and how Sarah could confidently finish off her living room with color (warm pillows and an accent wall). Of course, color can get much more complicated than this, but these are the basics. And the basics work, particularly when you are getting started in shaping your own home.
Now, it's your turn. I invite you to work color into your home and share the results with us. That's the fun part.
Apartment Therapy supports our readers with carefully chosen product recommendations to improve life at home. You support us through our independently chosen links, many of which earn us a commission.