The Trivia App Everyone's Playing: Your Catch-Up Guide to HQ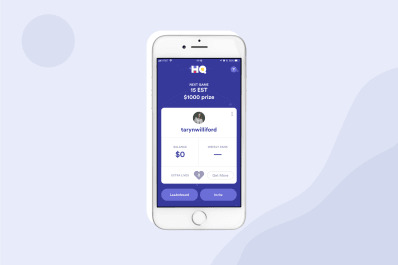 So all your friends and coworkers are obsessed with an app called HQ Trivia and you're feeling a little FOMO. Not to worry! We've got your living-under-a-rock guide to this very 2017 phenomenon right here.
What is it?
A trivia app. Well, a trivia game show.
It's an app you download for your phone that's useless for most hours of the day. Then at scheduled times (there's always a show at 9 PM Eastern time each night), you'll get a notification that the game is starting. Open the app and you're instantly tuned in to a 12-question trivia game show hosted by a dude in a green screen studio, where you (and a few other thousand people) are the contestants.
Yeah, totally is. Not gonna lie.
How do you play?
Download the app, start a profile and (against my own usual advice) hit "allow" when it prompts you to allow notifications. You'll only get one or two a day when the show is starting.
When it's time, boot up the app and get your trigger fingers ready. Host Scott Rogowsky will spit the shit for a bit and then start in on a series of 12 questions that'll pop up on your screen. Do your best to answer each one in the 10 seconds allotted. And the 10 seconds goes fast. (Before you ask, no, there isn't enough time to Google it, although people are certainly trying.)
If you manage to get all 12 questions right, you win! There's a prize each day of real money (usually $1,000) and everyone who makes it to the end without getting a question wrong gets to win or split that cash.
So I can win real money?
Yeah, except the questions get really hard around question 6. I'm a massive trivia buff who once went an entire college semester existing solely on appetizers bought with earned pub cash, and I've only ever gotten to question 8 one time.
But yeah, people are out there winning real money. The leaderboards in the app show the all-time leader as a dude named AllanG who's made $807 playing trivia on his phone so far. And everyone in the top 100 has made at least $200.
Why are all my friends inviting me to play?
Because they get an extra life if you sign up. Also because it's fun and you should play! Once you get over the Black-Mirror-y-ness of huddling around a few phones on a bar table watching a game show taking place everywhere and nowhere all at once, it's fun to play in groups, too.
And why are all my friends crushing on Scott Rogowsky?
That I cannot explain. But apparently he's having a hard time dating so shoot your shot, y'all.
Apartment Therapy supports our readers with carefully chosen product recommendations to improve life at home. You support us through our independently chosen links, many of which earn us a commission.