Hulu is Now Streaming All 7 Seasons of 'Golden Girls'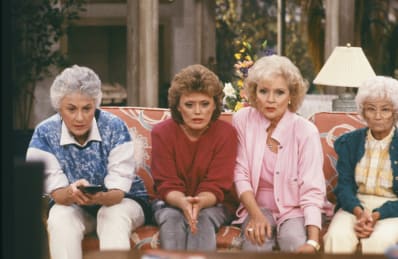 (Image credit: NBC)
Cancel your plans and invite your besties over for some cheesecake: as of today, Hulu has all 180 episodes of "The Golden Girls" available to stream.
The streaming service announced the news last month, and "this marks the first time one of the most popular series of all time will be available to stream all at once in one place," Hulu head of content Craig Erwich told reporters.
The show ended its run in 1992, but as a pop culture phenomenon, the four over-50 ladies from Miami Beach never really left our hearts or our consciousness. From the '90s on, the show has been quite popular in syndication. Fans have designed coloring books, opened cafés, created puppet parody shows, and even sang gospel remixes of the theme song. Betty White continues to endure (and work!), and is a national treasure.
While you can watch all 180 episodes in 2 days and 18 hours (without commercials), we thought we'd suggest some top episodes to start with.
"Ladies of the Evening" (Season 2, Episode 2)
The women hang out at a hotel bar trying to catch a glimpse of Burt Reynolds. They overstay their welcome, and are mistakenly arrested as prostitutes.
"Dorothy's Prized Pupil" (Season 2, Episode 24)
Why yes, that is Mario Lopez, before his turn as AC Slater on Saved By the Bell. Here he plays a student who wins a prize for his essay on what it means to be an American—and then gets busted for being an undocumented immigrant. Too real, GG, too real.
"Valentine's Day" (Season 4, Episode 15)
The women take a trip down memory lane over cheesecake (duh), remembering shopping for condoms and ending up at a nudist colony.
"The Case of the Libertine Bell" (Season 7, Episode 2)
Good thing Bea didn't get her way and end the series after five seasons, or we wouldn't have this amazing episode. The ladies head off on a murder mystery weekend, but the events take a turn when Blanche is accused of actual murder.
You can stream every episode of The Golden Girls right now on Hulu.
Which episodes are your favorites? Tell us in the comments.