The Messy-Attainable Home in 'I Feel Bad' Makes Us Feel Better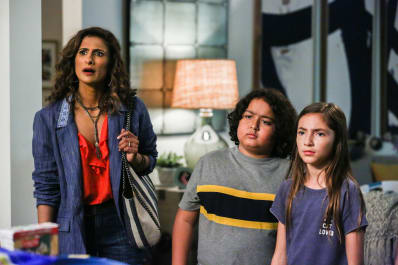 (Image credit: Courtesy of NBC)
With the Fall 2018 season underway, we are returning to some our favorite TV abodes, and getting invited inside a few new ones. Join us this month as we explore the best homes on the small screen.
Show: "I Feel Bad"—NBC Thursdays at 9:30 p.m.
Style: The lively family home, situated in the Silicon Valley suburbs, is casual, cozy and contemporary.
Why we love it: The Northern California abode—housing a mixed-race married couple and their three young children—features relaxed, modern vibes that are both inspired and attainable.
"Here's what every woman knows: we feel bad about something almost every day," says Sarayu Blue in the first episode of NBC's new show, "I Feel Bad." "I never know what I'll feel bad about, but I always know it's just around the corner."
Blue stars in the series as Emet, a woman of Indian descent who not only works as a video game artist in Silicon Valley's male-dominated tech scene, but is also a married mother of three young children and daughter to her oft-visiting parents. While the show sees her juggling her professional endeavors and her domestic demands—two spheres in which she holds quite high standards for herself—the latter's happenings usually take place in her family home, which is filled with as much natural light and inspired design as it is with kin-related chaos.
We talked to production designer Cynthia Charette and set decorator Chris Marstellar about crafting a relaxed setting for a kinetic life, realistically reflecting Emet's racial background into the home, and integrating a particularly personal memento into the set:
(Image credit: Courtesy of NBC)
Apartment Therapy: What does the show's home say about the characters who live there?
Chris Marstellar: It's set in Silicon Valley, and you can tell they're "new money" and that they generally enjoy design. It almost looks like they've used the amazing tools today like Pinterest and Apartment Therapy. This is a big family—they have three kids, her parents are also over the house a lot—so it couldn't look too polished. There are so many pieces I loved when I first got them, but I love them even more now that they look a bit more lived in and worn out.
Cynthia Charette: The set is beautiful, but one episode has them cleaning up the house, and it's just toys everywhere! That's what's so great about this job: It's not just about great design and being inspired, but crafting spaces that really reflect these characters.
CM: The character is of Indian descent, as is [showrunner] Aseem Batra, but she didn't want us to hit anybody over the head with that. So we do it more with jewel tone colors and blending of textures. Yes, there's a Ganesha plant on her nightstand, but the touches are just here and there. We didn't want it to be too much.
AT: How did you two go about creating this space?
CC: We shot the pilot in an incredible house in Pasadena that our director had found. It's part of this pocket of five or six houses that overlook a lake that not a lot of people know about. It had a beautiful backyard and a big, gorgeous kitchen, and a perfect open layout that really worked for sightlines with filming. After the pilot, we recreated the space on a stage on the Universal lot, but we changed a few things: That house had a huge drop-off [in the backyard] and a master bedroom that was way too big. We needed it to be cozier.
CM: Everything has lots of layers so it looks lived-in. A lot of these pieces are actually from World Market and Target—we're a TV show so we have a budget, and these stores really have some great pieces. But then again, when you need an $800 lamp, we're able to get it.
(Image credit: Courtesy of NBC)
AT: What are some of your favorite pieces in the home?
CC: This beautiful chair that Chris got from the NBC assets garage is actually my favorite. It's just the most perfect chair with flowers, like if you could do a still-life portrait of it.
CM: I love the triptych art piece from Zoe Bios Creative that hangs over the couch. That was the piece that took me the longest to find.
CC: I've already had someone reach out to me and ask where we got it, because they've been looking for something like that.
AT: Any easter eggs viewers might miss?
CM: You'll see that there's a giant teddy bear in the house. I have two daughters, and that was a staple in our home. In fact, that one is mine! My wife walked through the set and said, "Ah, there's where Victor went!"
Want to get this look? Here are some similar pieces:
Apartment Therapy supports our readers with carefully chosen product recommendations to improve life at home. You support us through our independently chosen links, many of which earn us a commission.