I Successfully Went One Month Without Logging Into Social Media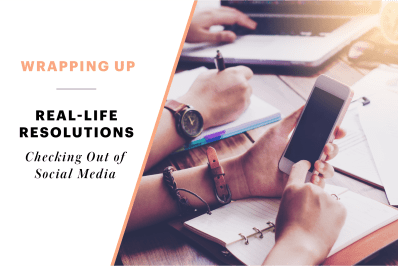 (Image credit: Shutterstock)
Caroline Biggs is one of six people tracking their resolutions with Apartment Therapy in real time. You can read her earlier installments here and here.
According to a recent study, there are a whopping 2.3 billion active social media users worldwide. That's nearly one-third of the entire human population that, per another staggering study, spends around an hour of every day on Facebook alone. This means the average social media user spends more time on Facebook every day than they do practicing any other leisurely activity, like reading, exercising, or socializing with friends. Social media seems to be our universal pastime.
However, I'm here to tell you, after a month of going Facebook-, Instagram-, Snapchat-, and Twitter-free, that social media is no substitute for real experiences. An interesting distraction on the subway? Definitely. A good way to keep in touch with friends and family across the globe? Of course. But worth the time, effort, and daily energy spent online instead of the "real world"? I'm not so sure anymore.
Week Three
Did you know that after two weeks (and sometimes sooner) of being MIA on Instagram, Twitter, and Facebook, they start emailing uploads from your friends directly to you? I get that it's an easy way to lure estranged users back to their accounts, but it's also kind of creepy when you're consciously trying to shut out that kind of digital clutter. More importantly, it's a quick reminder that no matter how much you'd like to avoid social media—it's pretty inescapable.
Week Four
The Women's March on New York City without social media seems like an almost impossible task; so much in fact, that my friends all but insist I break my fast for the day. I come close several times, but can never can bring myself to actually do it. The truth is, I love being at the march without worrying about what's going on online. Save for a few awesome pics and local news updates, my phone was tucked away for most of the eight-hour event. Not that there wasn't tons of content worth sharing (and seeing) on social media all day—there was just way too much going on right in front of me to worry about what I was missing out on there.
---
"I call my mom in Kansas to tell her how proud she would be of my progress and she instantly chokes up."
---
By the end of the fourth week I barely think about social media anymore. I've stopped mindlessly typing facebook.com into my web browser and swiping to find the IG app on my phone. In the mornings, I wake up and go straight to CNN and NYTimes.com to get my fast news fix, and usually make it well it to my day before remembering I can't log in to any of my social accounts. Meanwhile, I've been writing better, texting more (as in, personal messages instead of timeline posts), and spend more quality time with friends than I probably ever have before. I call my mom in Kansas to tell her how proud she would be of my progress and she instantly chokes up. "The last time we went out to dinner you were literally on your phone the whole time," she explains. "The only thing worse would've been not seeing you at all."
So, How Did The Whole Thing Go?
Overall, this challenge was incredibly rewarding. Not only did it open my eyes to my personal dependency on social media, it helped me see from an outsider's perspective what social media addiction actually looks like. More than anything, it allowed me to properly identify my own social media habits, mainly my almost compulsive need for disposable content, or what Andrew Sullivan aptly calls: my distraction sickness.
By far the most difficult part of not having social media for the month was the constant feeling that I was missing out on breaking news and social happenings. I was surprised by how much I missed Facebook more than any other platform, until I realized that's where I was formerly consuming the most content: status updates, brunch pics, music releases, news headlines and all the random stuff in between.
Personally, my biggest improvement came where I'd hoped it would: my presence. For the past few weeks, whether I was out to dinner with friends or watching TV with my boyfriend, I was really there—wholeheartedly and hands-free. This month-long challenge has already had such a positive impact on my life, and perhaps more importantly, on the people around me.
---
"For the past few weeks, whether I was out to dinner with friends or watching TV with my boyfriend, I was really there—wholeheartedly and hands-free."
---
What I Learned
For starters I learned that I—and most of my generation—can't sit still. We're so used to the luxury of distraction that we've completely forgotten if, and when, we actually need it. Of course, long train commutes and work days go much more quickly when we're scrolling through others people's daily updates. But all too often that behavior seeps into more meaningful situations—like dinners, meetings, and even much-needed disconnected personal downtime.
Here's what else I learned: Social media is fraught with cultural implications. Not only is it completely unavoidable (just as much in the news as our personal lives), it in many ways defines the era we live in. When celebrities get robbed because of Snapchat posts, kids beaten up on Facebook live, and major political leaders elected thanks (in part) to Twitter, is there even such a thing as being social media-free? This isn't shade; this is real talk about the digital culture we live in. And anyone looking to have an honest conversation about his or her relationship with social media is going to have to acknowledge this.
Where I Will Go From Here
Honestly, I plan on staying away from social media for a while longer. I thought for sure a month would be a long enough break to get my online priorities straight, but instead it feels like just the tip of the iceberg. The truth is, I've really enjoyed being immersed in the present for a change; so it's hard to imagine going back to being bombarded with other peoples daily happenings. Now, when I miss someone, I just send a text message that tells them so. If I want know how someone is doing, I call them up and ask. If I get the uncontrollable urge to post cute pic of my rescue bunnies, I send out a group message instead. Even now, at the end of this challenge, my only hope (other than maybe updating my profile pic) is that I continue to stay focused on the things happening in front of me and learn to deemphasize and compartmentalize what isn't.
To read the final resolution posts from our other writers, click here.
Kicking a Coffee Habit
Checking Out of Social Media
Making Meditating a Daily Habit
Abstaining from Alcohol
Cutting Out Sugar
Using Painting as Therapy