If You Could Turn Back Time: What Our Renovation Diarists Would Do Differently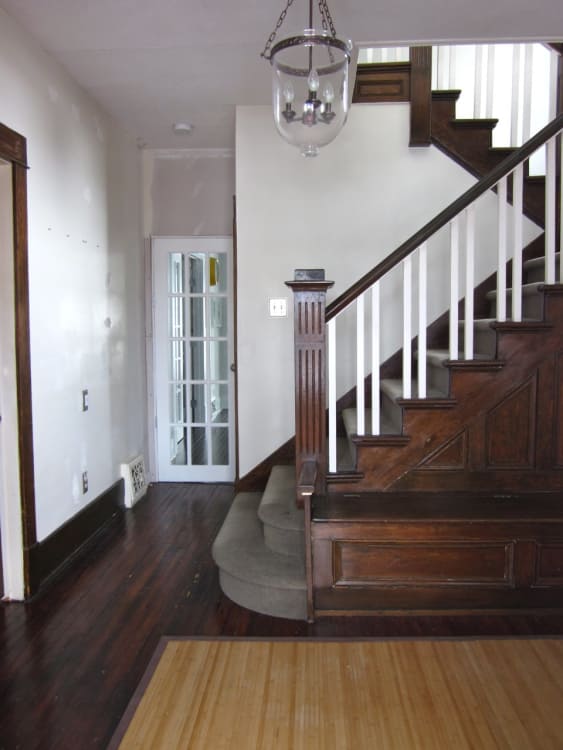 (Image credit: Mike and Sandie)
Renovations can be all-consuming, and nothing ever goes entirely according to plan. But what if you got to do something differently? While currently outside our powers, if we could send our Renovation Diarists back in time, here's what they'd change about the process:
From Mike & Sandie:
Taking more time to look at the condition of the stairs or subfloor would have allowed us to mull over our options and make more satisfactory decisions while not under a time restraint (i.e. replacing the stair treads and staining them instead of painting). But the time constraints were also a blessing in disguise, because we couldn't mull things over into indecision (i.e the marble: we would have hemmed & hawed over the price and possibly not taken the plunge, and we are thrilled with the results).
From Emily & Aaron:
After this project, I've learned a lot about how to work with contractors. A project this size has a lot of components, and it is nearly impossible to itemize everything on the initial contract, which gives room for interpretation and misunderstanding. If I were to do this again, I would be more vigilant about the contract and demand more communication with the general contractor. Sometimes the subcontractor will offer to try it multiple ways for you to decide, but it's the general contractor that will charge you for the time. I also think spending a little bit more time in the beginning planning out everything could have sped up the project. We were in such a hurry to start construction that a lot of decisions were made right before they needed to be made. Had we figured more details out in the beginning, it would have saved more time and heartache.
From Dan:
This was my first renovation experience, and before it began, I hardly knew where to start. So I decided to dive in head first and work out the details as I went. This strategy led to a drawn out timeline with numerous delays as the scope of the project shifted. But at the same time, it was a cautious approach that allowed me plenty of time to carefully consider each decision that went into the renovation, and fortunately my contractor, Gregg, was remarkably tolerant of this approach. But if I were to undertake another renovation project, knowing what I now know, I would plan out a detailed timeline, gather materials, and line up subcontractors before beginning demolition.
From Jennifer:
I would take the preliminary budget I was given and add 25-30% to it. My architect told me to plan on going over budget by 5-10%, but there are too many unexpected things that can happen. I know everyone says a renovation project will cost more than you budgeted for, but I didn't realized it could happen so quickly! Plus, there will be little things you'll want as the project progresses (dimmers on the lights, nicer backsplash tile, etc.) that you might not have budgeted. Plan for that, too.
From Christine & Pierre:
Honestly, there's not a lot we would change with this particular renovation. However, I don't think I would do a renovation like this one again. I would try and aim for either a cheaper, mostly DIY reno, OR a larger budget one where we entrusted most of the project to the pros. The particularities of our apartment meant this wasn't possible, but doing DIY bits in the context of such a large budget project was very stressful and complicated.
From Danielle & Austin:
Honestly, although everything took longer than expected, it turned out better than we ever could've imagined. Looking back, the only thing we may have done differently would be using a different cabinet maker, because it was months of endless hassle trying to get the right item, that wasn't broken, and then finally get our refund. Oh, and I wish we would've researched the lead time on items from the beginning so the timeline would've run a little bit smoother.
→ Welcome to Apartment Therapy's Best of 2014 roundup!
From December 21 through January 1 we are rounding up our favorite (and your favorite) posts from the past year.