A $12 Upgrade Makes This Home's IKEA Cabinet Look More Expensive Than It Is
We independently select these products—if you buy from one of our links, we may earn a commission. All prices were accurate at the time of publishing.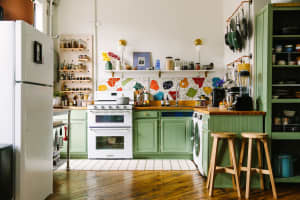 Can't-Miss House Tours Straight to Your Inbox
Keep up with our latest house tours each weekday with our House Tour of the Day newsletter
Name: Madison Hope Veitch, my husband, Matthew, and our two cats Penny and Frank
Location: Coquitlam, British Columbia, Canada
Size: 650 square feet
Years lived in: 2 years, renting
I live with my husband Matthew and our two cats (Penny and Frank—who are literally the cutest!) in our 650-ish-square-foot condo! We moved into our current place about two years ago when Matthew was hired by the local school district. We were living about 45 minutes away from here before—and my family lives close by—so it was a blessing in disguise that he was hired out here. It's a new place for him, but I also love being closer to family and friends.
As for me, I am a graphic designer/art director and have recently left my full-time job and started my boutique design agency—where I work from home. Working in a small space can be difficult since we only have one bedroom—that we use for sleeping—but we really tried to focus on functional storage that is also "pretty" to help keep our space tidy and organized.
Since I work with lots of color and various design styles throughout my work week, I've always been drawn to neutral spaces. I am really affected by my surroundings, so I love to have a clean palette or a clean slate in my free time. Matthew also works with a lot of energetic little individuals in the day (he teaches intermediate levels— grades 3/4/5 primarily), and we're both pretty low-key individuals so we just enjoy a more neutral and relaxing environment.
Our area has changed a lot even in the time we've been here—and we love it a lot! The only time we consider moving is when we think about possibly growing our family!
I would say that over the past year we've made the most changes to our space style-wise, and object/furniture-wise. We got married last March, and since then have both been a bit more interested in really nesting, and investing in pieces that we think will have a space in our home for years to come.
The one thing I always aim for in our home is that people would feel warm, welcome, and comfortable to just be themselves in our space. We are both pretty introverted, so we don't host often, but when we do, we always want people to feel at home. Nice to look at—but nothing too nice people feel like they can't plop down, or touch things, or sit somewhere. Nothing is off limits—and everyone is welcome to just "be" at our place.
What's the last thing you bought (or found!) for your home? Our last big purchase was our BILLY cabinets from IKEA in the beige colour. I swapped out the handles for IKEA kitchen cabinet handles and I think it has totally made the piece look more expensive than it originally was! We love them so much—there is nothing I love more than a beautiful shelfie! I also find it helps with my creative process when I need a little brain break, to step away from my computer and restyle.
Any advice for creating a home you love? In the past, I've gotten really excited about a new home or a new look and wanted to go out and buy everything all at once. The problem with this is that sometimes even though online or in your head it seems perfect, it just doesn't have that same rich, layered, and thoughtful look in real life.
Decorating a home you love really is a slow-burn. Pinterest and Instagram are great resources, but it's also a really personal process, and it takes a lot of introspection to really know yourself well enough to know what works for you.
For example, I am not really one for family photos on display, but I also love our family and am a really sentimental person. So, I had to find a way of artfully adding meaningful pieces to our home to celebrate our family, our wedding, our past, and more. I try to focus more on objects—gifts from loved ones, a unique crop on a wedding photo so it looked a bit more like art—things like that!
I think it's just about finding solutions that work for you. And remember, your home is only for you! It doesn't matter what anyone else thinks—just try to stay true to yourself, and the people who share your home with you! Your home can be the most personal thing about you—and you don't have to decorate it the way others think you should. It's perfect just the way you like it!