IKEA Founder Ingvar Kamprad Dies at 91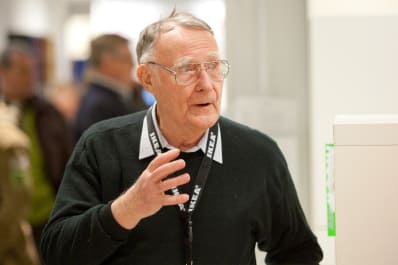 (Image credit: Courtesy IKEA)
The founder of IKEA, Ingvar Kamprad, has died, the retailer announced Sunday. Kamprad passed away peacefully at his home in Småland, Sweden on Saturday, following a short illness. He was 91.
You'd be hard pressed to find a home that doesn't include something created by the Swedish retailer, and that's due to Kamprad's genius. He founded the company at age 17 on the family farm in Småland, and grew it into the ubiquitous brand you see today. From our brief history of IKEA:
[In 1947,] Kamprad began selling items like pens and nylon stockings at reduced prices, first in door-to-door sales calls, and then by mail-order, to keep up with high demand. In 1948, IKEA began producing furniture, and the first catalog was published in 1951. In 1956, Kamprad hired four Danish designers to form an in-house design team, including Erik Wörts, who had previously helped develop the first flat-packed, DIY assembly-required furniture suites. And thus, IKEA as we know it was born.
IKEA's announcement describes Kamprad as "a great entrepreneur of the typical southern Swedish kind — hardworking and stubborn, with a lot of warmth and a playful twinkle in his eye."
(Image credit: Courtesy IKEA)
Despite not having an operational role in the company since 1988, Kamprad stayed on as senior advisor, sharing his knowledge and energy with the IKEA co-workers. "He worked until the very end of his life, staying true to his own motto that most things remain to be done," the statement reads.
"We are mourning the loss of our founder and dear friend Ingvar. His legacy will be admired for many years to come and his vision – to create a better everyday life for the many people – will continue to guide and inspire us", says Jesper Brodin, CEO and President of the IKEA Group.
"Ingvar's extensive knowledge and engagement over the years have been a huge source of inspiration. His heritage is always with us and we will continue to constantly search for new and better ways – to find solutions that no one else has thought of and to do great things for the many people, together", says Lars Thorsén, CEO of Ikano Group.
At Apartment Therapy, we'll be bowing to our BILLYs, respecting our RASKOGs, and pondering our POANGs today. Thanks for everything, Ingvar.
Apartment Therapy supports our readers with carefully chosen product recommendations to improve life at home. You support us through our independently chosen links, many of which earn us a commission.