IKEA x Ilse Crawford's New Home Fragrance Line Is Inspired by Scandinavian Forests
We independently select these products—if you buy from one of our links, we may earn a commission. All prices were accurate at the time of publishing.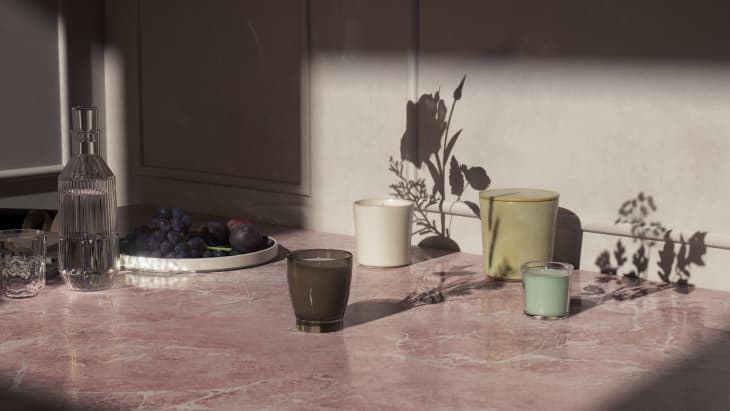 If the concept of "forest bathing" could be translated into a scent, it would likely smell similar to the brand new home fragrance collaboration between IKEA and Ilse Crawford of Studioilse. Centered around the theme of wellbeing, the Swedish retailer and London-based designer honed in on creating scents rooted in comfort in an effort to, as Crawford told Apartment Therapy, "elevate our experience of home."
The collaboration resulted in eight candles, all of which come in either ceramic or glass vessels designed by Crawford. Two of the scents, ADLAD and ENSTAKA, were crafted by Crawford, herself.
Follow Topics for more like this
Follow for more stories like this
"When [I] think of IKEA, I think of the forests and I think of the wooden floors and wooden houses, and obviously, the wooden furniture," Crawford said. "And to somehow encapsulate that in these two scents was really interesting to us."
Crawford said that both ADLAD and ENSTAKA are deep, woodsy fragrances inspired by the lush forests of Scandinavia and IKEA's connection to nature. She loves to burn ADLAD, a rich blend of citrus, cyprus, and clove, during the day and then she switches to ENSTAKA, a meld of sandalwood, leather, and smoke, at night. "They're slightly different faces of the same thing," she said.
"If you like a more smoky, more primal, more kind of stove-fireplace-bonfire kind of smell," Crawford said, then these scents are for you.
And when you're done burning any (or all) of the eight candles in the line, the vessels have been designed to thrive in the afterlife, too.
"Disposability is a mindset and there's no reason why you wouldn't make a container that is beautiful enough to reuse," Crawford told Apartment Therapy. "Ceramic is a fantastic material, and to pay more attention to the details, to the glaze, to the tactility, to the proportion, to make it more beautiful so that you wouldn't want to throw it away seems so obvious to us."
The containers are even food-safe, "so you could even have your cup of tea out of [them]," Crawford added.
Each scent in the new range will be available in tealights, scented hangers, and a variety of scented candles that offer a 12 to 60-hour burn cycle. 
"The advantage of working with IKEA on this is that they were able to work with a really brilliant fragrancer out of Paris," Crawford said. "So it is a very high-level fragrance that we've been able to work with for this, which is something that becomes possible when you can work at that scale." 
All eight outdoors-inspired fragrances will be available to shop at IKEA on April 1, so make room on your coffee table, prepare your noses, and get ready to breathe in the beauty of the forests and set your mind at ease.