IKEA Just Announced That Its Iconic FRAKTA Bag Will Get a New Look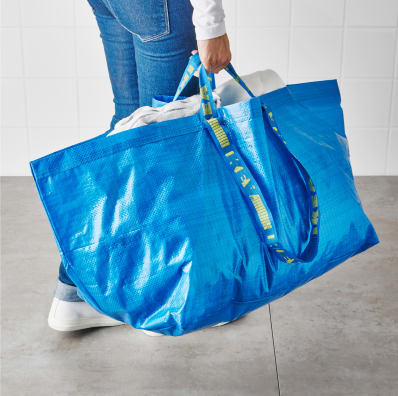 (Image credit: IKEA)
Oh, the FRAKTA bag. No trip to IKEA is complete without it (how else will you haul all those tealights and RIBBA frames you mindlessly grabbed while strolling through the showroom to the car?). The company just announced that this workhorse is getting another new look, courtesy of a French retailer.
While it's endlessly useful (we've sung its praises before and even included it on our ultimate IKEA shopping list) and a bargain at 99 cents, the 19 gallon polypropylene bag is not exactly a looker.
You may remember that FRAKTA is already getting a designer twist from Danish brand HAY, as part of a collection due out later this year. HAY tones down the bag with a muted palette of white and forest green, and replaces the crinkly polypropylene with a thin yet durable woven fabric.
(Image credit: inter IKEA systems B.V. 2016)
HAY's is not the only new look for FRAKTA, though. The Swedish retailer just announced a partnership with French store Colette for a version of the bag. Their take features a white background with Colette's signature blue dots logo on one side, and more spots on the other.
IKEA is currently popping up in Colette's Paris store, where Colette designers have reimagined IKEA products for the windows, the company's limited-edition ART EVENT prints are on display, and the redesigned FRAKTA is free with an ART EVENT purchase. IKEA is even giving a makeover to the store's famous "water bar," where you can order over a hundred different types of H2O, through May 6.
If you're not in Paris, you can still get your hands on the Colette FRAKTA, though you'll have to wait a little while. It, along with other select pieces reimagined by Colette Creative Director Sarah Andelman, will be in IKEA stores in 2018.
Which FRAKTA is your favorite? Tell us in the comments.