The $40 IKEA Storage System that Changed Laundry Sorting Forever
We
independently
select these products—if you buy from one of our links, we may earn a commission. All prices were accurate at the time of publishing.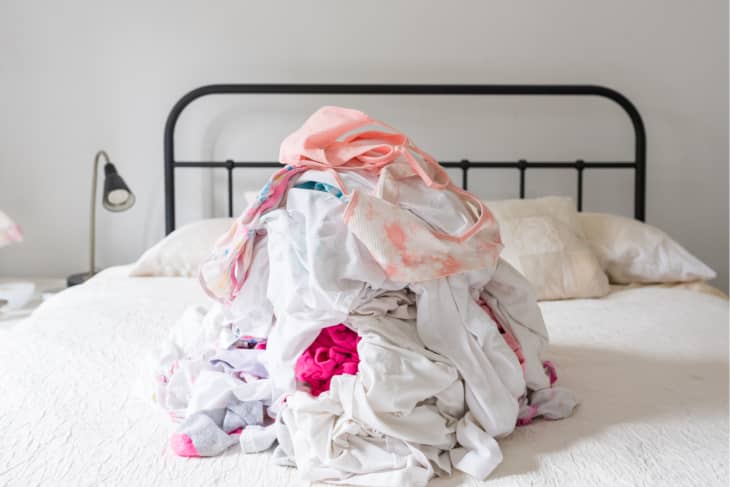 Sorting laundry is my own personal hell. Or, at least it used to be: I'd carry large loads for myself, my husband, and my four kids to the living room, spending a few minutes sorting, before getting distracted. I'd leave six half full laundry baskets, which clothes were being sorted into, around the living room. Two days later they would still be there, occupying a major living space in our house. It had to end.
Per usual, I headed to IKEA for a permanent solution to this homemaking problem. I was determined to find a sorting tower to keep the laundry where it belonged — the laundry room. I realized quickly that most of the solutions I found would still require transferring the sorted laundry to additional baskets — which doesn't really solve my problem of leaving baskets around, not put away. Some of the baskets were quite full and could take a full half hour for one person. Then I came upon the holy grail of solutions: the IKEA JONAXEL storage system. 
This eight-section metal tower has removable drawers, which now replace my old baskets. There's no need to transfer anything after sorting, because the drawers can be carried to the rooms, eliminating the laundry pile in the living room. But the best part is that I eliminated my over-stuffing of the old laundry baskets by choosing a tower that features small and wide drawers. This is causing me to not only sort by person, but by category, stacking each child's underwear, shorts, and other items on top of their similar buddies within that drawer. This additional level of organization means that when I, or my kids or husband, carry their drawer to their rooms, you don't even have to set it down before quickly placing each pile into the right location, and returning the drawer to the tower. 
After attaching some separate labels for each family member, even my third of four sons, at age 2, can identify his basket and carry it to his room with a bit of help. My older two children, ages 5 and 6, can fully find, put away, and return their basket on their own (*cue angels singing above*). The lower drawers are for younger kids and linens, and the higher drawers are for big kids and adults. I'm finally enabled to teach my children laundry with an actual process, rather than looking inept with piles everywhere. More importantly, let's not forget that I've solved the disaster of wrangling mismatched socks.
IKEA, if you are listening, please add premade spots for labels, and try to make it slightly less heavy and easier to slide the drawers into their spots (they have to align perfectly). But otherwise, thank you for saving me.
After almost a decade of laundry back up, clothes strewn about, and general mayhem, I actually feel in control of my laundry thanks to this product. It's unbelievable to be saying that when I have more people in my family than I ever have before, but it's true. I can't wait to try these for sorting in other rooms, like the closet.