The New IKEA x LEGO Collection Is Full of Creative Storage Solutions
We
independently
select these products—if you buy from one of our links, we may earn a commission. All prices were accurate at the time of publishing.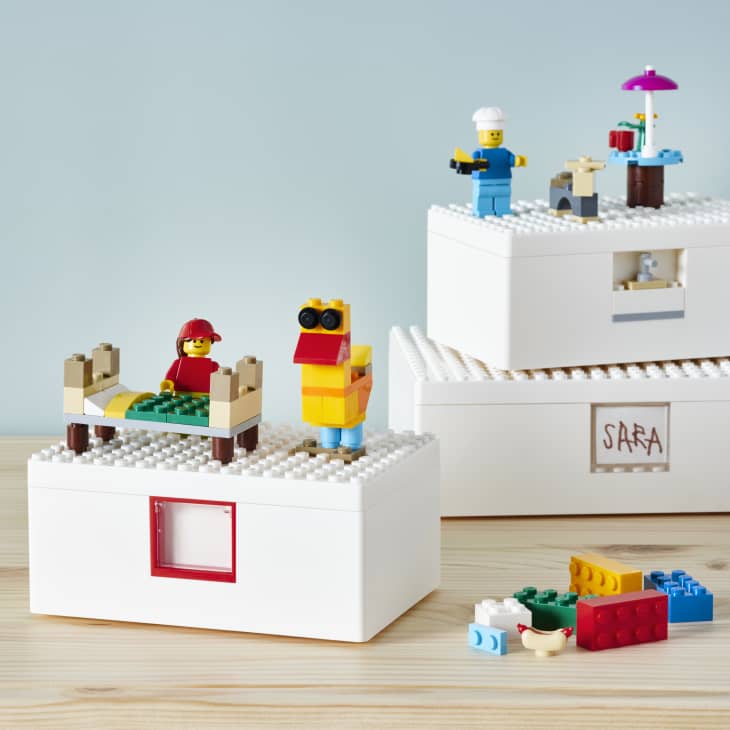 Wish there was a way to motivate your kids to stay more organized? Well, IKEA and LEGO, two of Scandinavia's biggest and best-known brands, have teamed up to create a storage collection with a playful element—perfect for the creative kids in your life and the parents who want to keep things in order.
Swedish furniture giant IKEA and the Danish LEGO Group are set to release the BYGGLEK line on October 1. The collection consists of three small boxes and two larger boxes, each with a cover featuring LEGO studs and a special set of LEGO bricks. The white boxes are stackable and the components are compatible with other LEGO products to build off of (literally). You can create buildings and scenes on top of the boxes and when playtime is over, toys can be stored inside.
"We wanted to make a product that you can still have in the living room," Andreas Fredriksson, designer at IKEA, said during a virtual press conference. "You don't put it away. It becomes more like a sculpture when it's not played with—something beautiful to look at."
Rasmus Buch Løgstrup, designer at LEGO Group, emphasized that BYGGLEK was designed to be equally appealing to parents and kids. "We also knew by research that kids—especially in the younger age group—really want to be together with their parents; they don't want to be locked up in their rooms sitting there on their own playing," Løgstrup said. "So we know these toys and storage solutions will eventually end up in the kids' rooms or in the living room, but in order for everybody to live together at home, we needed to make something that fits everybody."
Studies by both IKEA and LEGO Group confirmed that parents recognize how important it is for their kids to play and exercise their imaginations. However, according to the LEGO Play Well study conducted this year, 51 percent of parents worry about their kids making a mess and feel the need to tidy up even while their kids are still playing.
This collection is meant to create moments for children and parents to play together, perhaps designing a home with the LEGO bricks, windows, doors, and other architectural elements included in the set. The boxes will be available on the IKEA U.S. website and at retail locations throughout North America and Europe, with prices ranging from $9.99 to $14.99.