Get Excited: IKEA Is Celebrating National Meatball Day on Thursday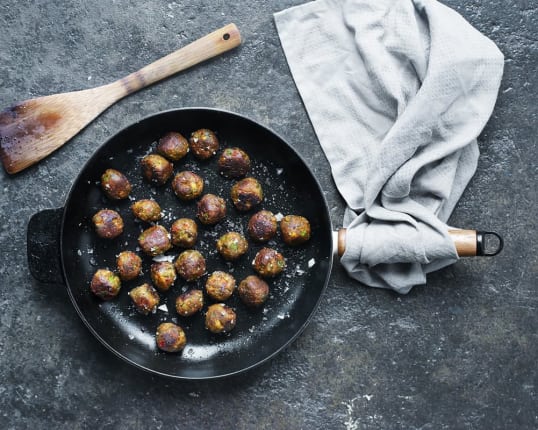 (Image credit: IKEA USA)
We interrupt your regularly scheduled Apartment Therapy reading with a very important public service announcement: Thursday, March 9 is National Meatball Day and of course, IKEA is celebrating. Sure, novelty holidays are a little silly, but we're never mad at a reason to scarf down a meatball or twenty. Smaklig måltid (that's bon appetit in Swedish)!
On Thursday, IKEA is celebrating with special restaurant offers, in-store activities and more. When you visit ikea-usa.com/food on March 9, you'll see a $5 coupon for a purchase of $25 or more in the Swedish Food Market. You can also pick up the essentials to make Swedish meatballs at home—frozen meatballs, cream sauce, and lingonberry jam—for $9.99 (normally $14.27).
In the restaurants (which underwent renovations last year), they'll be dishing out buy-one-get-one free meatball plates—with your choice of Swedish, chicken or vegetable balls—starting at $4.49. IKEA's also taking a Southern twist on breakfast, with "chicken and waffles" (two chicken balls and a waffle with jam) for one dollar.
While you're there, guess how many IKEA meatballs are in a jar for a chance to win four tickets to the annual Påskbord event, a Swedish Easter feast the retailer throws at each store.
The retailer is famous for its Swedish meatballs, or Köttbullar, which it has been selling in the US since the first store opened on this side of the Atlantic 31 years ago (check out when Kitchn cooked them up live with IKEA's Managing Director of Food!). In 2015, they rolled out (hehe) the chicken and veggie varieties. Globally, IKEA sells more than a billion meatballs a year—that's about 2.9 million per day. US customers gobble up 56 million of the savory bites each year.
If you'd rather stay home, but still want to celebrate, here's IKEA's famous recipe for the meatballs (or you can try Kitchn's version!).