IKEA Plans Millennial-Focused Furniture Line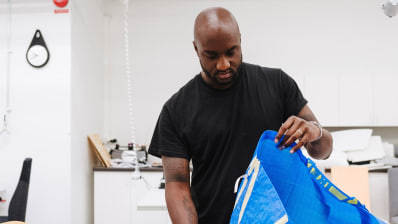 (Image credit: IKEA via Dezeen)
When the "creative multi-hyphenate" best known for his collaborations with Kanye and bringing political awareness to Milan fashion shows teams up with IKEA, you know it's going to be buzzy.
Or maybe, easy breezy Yeezy.
Virgil Abloh is an American creative designer, DJ, trained architect, and founder of the Milan-based fashion label Off-White known for being a "21st Century Renaissance man" who mixes mediums, styles, and genres to create art and products that reflect the culture and political climate of the time.
And at a time when IKEA is increasingly bringing its focus to minimalism — including recent announcements to also bring space-saving, micro-living collections inspired by the confines of space travel to its lines — it should be no surprise that the Swedish giant would tap a label-defying cultural icon (and celebrity favorite) like Abloh.
"We're in a moment where IKEA is transcending, and people are bringing this 'do it yourself culture' to the blue bag," Abloh said in IKEA's announcement on Wednesday. "What I'm most interested in is doing that process in partnership with the brand. It's allowing me to put my opinion on a classic. It's unique, and distinctly as much of Off-White as it's IKEA."
Abloh also spoke about the opportunity to design for a generation buying their very first pieces of real furniture. "Largely people grow up in their parents' environment," he said. "They've never had to consider furniture. Then when they're off on their own and have their own aesthetic, what are their first purchases? I'm interested in thinking about how those purchases are informed."
According to Dezeen, the Abloh collection for IKEA will explore the first home and how to make it inexpensive and fashionable, with furniture tailored specifically to the needs, tastes and budgets of young adults — aka Millennials (25 to 34 year olds), who he refers to as a "post-Tumblr generation" who tend to put a "high emotional value" on art and design in the home.
The yet to be named collection is slated for 2019.