Here's How IKEA Plans To Bring the Store (and Other Services) Directly To You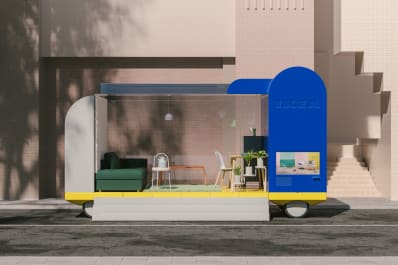 (Image credit: Courtesy of SPACE10)
With the year quickly approaching its end, Entrepreneur has already predicted 2019 as revolutionary as it relates to online shopping. There's no debate about our appreciation for buying any and everything via the internet, so it's only natural for the services to progress in order to keep up with the growing demands. Concepts like IKEA's self-driving autonomous vehicles prove that there are endless creative options available to ensure that we don't have to venture any further than our computers to get the items we need and want (and fast!).
(Image credit: Courtesy of SPACE10)
Along with a report on autonomous vehicles, the globally renowned Swedish brand's future living lab SPACE10 recently released the result of its collaboration with f°am studio: a fleet of seven conceptual vehicles designed to address various societal needs: café, farm, healthcare, hotel, office, play, and shop.
An accompanying app developed by SPACE10 allows users to order each vehicle from their iPhones and either virtually buy, order or try the items each one contains. For instance, the café vehicle is a mobile coffee service; farm delivers fresh produce on demand; the company describes play as an "augmented reality joyride"; hotel satisfies on-the-go hospitality needs; and shop is a pop-up store.
(Image credit: Courtesy of SPACE10)
Göran Nilsson, IKEA Concept Innovation Manager at Inter IKEA Systems, tells DesignBoom that the company isn't necessarily looking to join the car manufacturing industry, but acknowledges that there is room for expanding the purpose of vehicles beyond transport.
"IKEA is a curious company and we need to constantly explore new opportunities," Nilsson says. "We don't have ambitions of manufacturing cars, but in a future where people no longer have to worry about driving, vehicle interiors can expand to a point where we no longer are designing cars, but rather small spaces. Then it's suddenly an area where we have a lot of experience, but also an area where we would like to engage for new insights."
(Image credit: Courtesy of SPACE10)
With the influx of apps that appeal to those of us who don't want to leave home to take care of business, IKEA's autonomous vehicle concept feels right on time.
h/t Designboom