The "Oddly IKEA" ASMR Video Is Actually Relaxing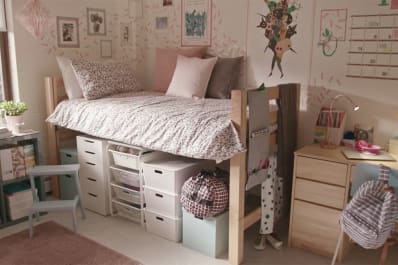 (Image credit: IKEA)
Using YouTube videos to lull yourself to sleep is one thing, but how about a visual production that simultaneously encourages you to snooze and shop for stuff to spruce up your place? Enter IKEA's ASMR video. At 25 minutes, "Oddly IKEA" campaign features an intentionally soft-spoken narrator who guides viewers through a college dorm room outfitted with some of the brand's latest back-to-school products.
In addition to advertising everything one would need to buy for a dorm room, the company also sets out to soothe those who experience autonomous sensory meridian response (ASMR), otherwise known as a tingling, calming sensation brought on by hearing certain sounds.
The video is kind of how we we imagine a virtual ASMR spa experience would be. The woman in the video begins by moving her hands in a circular motion across the renewable cotton sheet, and for a few minutes, the clip focuses on the sound of her fingertips making contact with the bedding. She then moves to straightening pillow cases where the sound of the fabric crinkling can be heard. Other auditory stimuli highlighted in the ad include a pile of folded shirts being placed in a closet organizer and the gentle scraping noises of files being arranged on a small shelf.
Apparently, the video meets its goals for many of those who have viewed it and agree that the overall sensory stimulation makes the task of keeping your bedroom more organized sound way more pleasurable than it is.
Ogilvy's creative director Della Mathew and Ikea external communications specialist Kerri Homsher told Adweek that the series accurately represents the home decor brand.
"A series like this is very much in keeping with the Ikea character," Mathew and Homsher told the publication. "Plus, the format of ASMR videos allows you to deliver product benefits in a pleasant, calming way, something a TV spot or print ad doesn't always succeed at. We hope this demonstrates to everyone who watches that Ikea has solutions that make your home work better. But really, we hope it does what it's supposed to do: help everyone who watches it relax a little."