IKEA's Flat Pack Shelter Gets a Redesign Amid Fire Concerns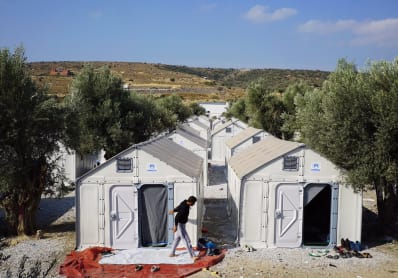 (Image credit: Courtesy Design Museum)
Better Shelter, the award-winning refugee shelter design concept created as a partnership between the not-for-profit IKEA Foundation and the United Nations High Commission on Refugees (UNHCR), has announced a late 2017 redesign. It will address real-world "beta testing" feedback from displaced persons living in their flat-pack shelters in refugee camps, as well as from humanitarian aid experts and European countries seeking to provide refugees safe haven by building Better Shelters within their borders — along with meeting stricter fire codes.
Leading the burgeoning "humanitarian architecture" field, the Better Shelter was introduced as a concept in 2013 and immediately lauded by design judges, design enthusiasts, and humanitarians alike for its ambition and awareness in addressing the issue of adequate, temporary shelter that feels more like home than standard refugee tents for the growing number of displaced persons around the world.
In January, The Guardian reported that IKEA's solar-powered Better Shelter lasts six times longer than a typical emergency tent and has already changed the lives of thousands of refugees around the world. According to a 2015 UNHCR study, one in 122 people is a refugee, asylum-seeker, or internally displaced person — underpinning the reason why Better Shelter was chosen as Beazley Design of the Year 2016 by London's Design Museum.
(Image credit: Courtesy Design Museum)
Better Shelters are lightweight polymer structures that are flat pack (like your go-to BILLY bookcase) and are an entire home for a family of five, equipped with solar panels (providing enough electricity for lighting or cell phone charge), locking doors, and interiors spacious enough for an adult to stand up fully inside.
In places like Iraq's Anbar Province, returnees in formerly war-torn areas are using Better Shelters like temporary PODS so that they have somewhere affordable and dignified to live on or near their property while they rebuild. Per Heggenes, CEO of the IKEA Foundation, recently told Dezeen he also sees a real opportunity in the IKEA-hack potential of Better Shelter.
---
While IKEA-hacking your Better Shelter sounds appealing, DIY modifications and improper assembly seem to be the root cause of concerns about the original Better Shelter design.
---
"Because they are modularised, they offer a way of creating small health stations, as doctors did in Nepal, or creating temporary schools," Heggenes said.
But while IKEA-hacking your Better Shelter to be more modular and personalized sounds super appealing to us, should we ever find ourselves in the tragic situation of being displaced, DIY modifications and improper assembly do seem to be the root cause of both Swiss and UNHCR concerns about the original Better Shelter design.
Swiss officials told the AFP they independently tested 62 units and found them to be "highly combustible." Additional concerns about the shelters' handicap accessibility and fire safety, both within the structures and between them, fueled a decision by UNHCR last month to halt deployment of two-thirds of the 15,000 units it purchased in 2015, Dezeen reports.
Though none of the concerns appear to be dangerous enough for a recall, deployment is on hold by UNHCR and the goal is to launch a redesigned version later this year. Curbed has a full roundup of the design issues that IKEA will be addressing in the Better Shelter 2.0 redesign.