IKEA's New Furniture Assembles in Minutes, No Screwdriver Required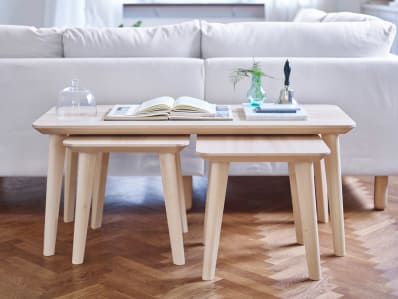 (Image credit: IKEA)
If you've ever spent a frustrating afternoon pouring over IKEA assembly instructions, things are about to get a lot easier. The Swedish retailer recently debuted a new line of furniture that snaps together "like a jigsaw puzzle," and leaves your Allen wrench without a lot to do.
Last year, IKEA debuted the wedge dowel, a click technique invented by prototype engineers at the IKEA pattern shop in Älmhult, Sweden, that drastically reduces assembly time and increases ease. It requires no glue and minimal fittings, so it can be disassembled and reassembled without any loss to structural soundness. So, you can take it apart, move it, and put it back together ad infinitum and it'll be just like new.
The wedge dowel is already in use in the LISABO line ($79.99 to $179), a series of tables that won a Red Dot design award. "It offers a superior feel, outstanding functionality and well thought-out details," said the committee, and the "almost invisible innovation... cuts assembly time by 80 percent."
"I actually put together a table which used to take me 24 minutes to assemble but took me three minutes to click together," IKEA's range and supply manager Jesper Brodin told Dezeen.
This isn't the first time we've seen quick-assembly furniture from the Swedish Giant. A wedge dowel was used in the REGISSÖR storage series in 2014 and some Stockholm pieces from 2015. In fact, the industry has been looking to perfect the art of easy assembly for years: that was the idea behind Hem, Fab co-founder Jason Goldberg's furniture company; one brand even created flat-pack polymer pieces that unfolded according to "shape memory."
IKEA plans to roll out the wedge dowel in additional collections in the future. "There will probably still be some things you assemble but maybe we can make that more fun and easy. But the big furniture products are going to be clicked together," said Brodin.
Check out the production process below:
h/t Dezeen