IKEA's New Limited Edition Collection Is For People Who Aren't Afraid of Pattern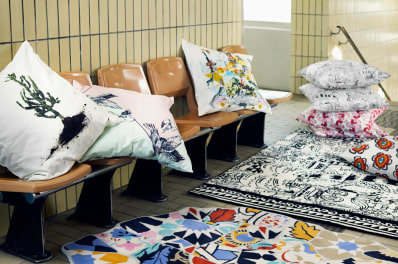 (Image credit: IKEA)
How do you feel about cartoon cucumbers? What about anthropomorphic lightbulbs and space giraffes? In IKEA's latest limited edition collection, you get a little bit of all of the above, plus a whole lot more creative patterns from six different artists and designers.
STUNSIG is coming to US IKEA stores this June, and it has everything from dinnerware, bedding, and rugs to notebooks, totes, and storage boxes emblazoned with creative designs from six artists and design teams.
"With STUNSIG we wanted to present new artistic prints that are more unique, more fun and more daring! And apply them to selected IKEA products, turning them upside down and make them extraordinary," said Henrik Most, Creative Leader for the collection.
Even though the patterns and motifs are all unique, the artists encourage you to mix and match them. "1+1=3. All prints have a strong visual story on their own. The moment you mix various prints, the scenery expands and creates new, unique and unexpected magical stories," said Tilde Bay, a Copenhagen graphic designer whose STUNSIG pieces blend photography with illustration and natural elements like the ocean, marbling, and a cactus.
In addition to Bay, IKEA tapped tapped Frédérique Vernillet, Malcolm Stuart, Pınar Demirdağ and Viola Renate of Pinar & Viola, Steven Harrington, Malin Grundström and Anne Gustavsson of Team Hawaii to bring their unique points of view to the collection.
"Our hope is that the motifs will inspire and stimulate people's imaginations. They're reflections of the world around us and express utopian, generous messages in order to spread goodness in the world," said Pinar & Viola.
We could definitely use more of that.
IKEA also announced this week that their smart lighting line will be voice activated, and can support commands via Alexa, Siri, and Google Home.
Look for STUNSIG in stores this June.